Wayanad: In 2000, Atal Bihari Vajpayee, India's then Prime Minister, chose Kerala's Kumarakom as the destination for his year-end holiday. "… as my eyes feast on the verdant environs of Kumarakom resort on the banks of the sea-sized Vembanad Lake in Kerala. I have come here for my year-end holiday, far away from the national capital. Nature's silent beauty provides a perfect setting here for contemplation. And I wish to share some of my thoughts with my countrymen with this article." Thus wrote Vajpayee in his series of articles – My Musings from Kumarakom – in The Hindu daily.
Congress (INC) President Rahul Gandhi's decision to contest from Wayanad helped draw unprecedented attention to this beautiful hilly district in Northern Kerala, bordering Karnataka and Tamil Nadu
By choosing Kumarakom, Vajpayee had literally changed the fortunes of Kerala Tourism. The pristine backwater destination still reigns as one among the top tourist spots in the country.Nineteen years have passed since and Kerala Tourism's yet another premium destination has hogged the limelight, albeit unwittingly this time. The destination is Wayanad. Indian National Congress (INC) President Rahul Gandhi's decision to contest from Wayanad helped draw unprecedented attention to this beautiful hilly district in Northern Kerala, bordering Karnataka and Tamil Nadu. The electorate has given the Gandhi scion a thumping victory and for the next five years, Rahul Gandhi will represent Wayanad, situated on top of the green-covered Western Ghats, in the Lok Sabha.
Though Rahul Gandhi was in Wayanad for many days as part of his electioneering, he didn't stay in Wayanad. However, his sister Priyanka Gandhi, who was the star campaigner in the constituency, stayed at Vythiri Resort, one of the premium tourism properties, in Wayanad for a night.
"Kerala's backwaters have been popular but the emergence of Kumarakom as a destination on India's tourism map happened after Vajpayee's visit," says Abraham George, former President of Kerala Travel Mart (KTM) Society and Managing Director, Intersight Tours & Travels. "The trade is expecting something similar in the case of Wayanad also with Rahul Gandhi's presence in the region. No doubt, Wayanad has got the attention of national and international media in a big way. Hopefully this will translate into business in the coming tourism season," he said.
Indeed, Rahul's candidature turned out to be a blessing in disguise for Wayanad in particular and Kerala Tourism in general. Affected by floods, Nipah virus outbreak and forest fire, tourism industry in Wayanad has been passing through tough times in the last one year.However, according to the tourism fraternity, things have improved in the last one month. A favourite getaway for the urban crowd in Karnataka and Tamil Nadu besides Kerala, Wayanad has emerged as a popular weekend destination over the years. Now hoteliers have started receiving bookings from Mumbai, Gujarat and Delhi. There were even enquiries regarding opportunities for investment from a couple of NRI businessmen.
According to Jibran Asif, Director of Abad Hotels & Resorts, which recently launched Abad Brookside – a luxury resort – in Wayanad, Rahul Gandhi's presence has literally elevated Wayanad into the international arena. "The destination has received enough and more publicity. What's now required is collective action by the stakeholders to utilise this opportunity effectively," he said.
"It has been a lean period for Wayanad's tourism industry in the last one year and more. However, ever since the Rahul Gandhi factor, things have improved. Over the last few weeks, we are doing double the occupancy target, that too, guests from North India. This is really a welcome sign. I hope this trend will continue and have a positive impact in the coming season as well," said Johny Tom, General Manager, Wayanad Wild Resort.
Wayanad Tourism Organisation (WTO), a forum of local tourism entrepreneurs working for the development of Wayanad's tourism resources and capabilities, met Rahul Gandhi amidst his election campaign and submitted a memorandum seeking his intervention to tackle issues plaguing infrastructure development in Wayanad. "Unless there is an improvement in Wayanad's basic infrastructure facilities, the growth of tourism industry will remain stagnant. Right from the night traffic ban on the Gundlupet-Wayanad route, issues affecting tourism prospects of Wayanad are plenty. We earnestly hope that the presence of Rahul Gandhi will help resolve these issues faster," said Ravindran, former Secretary of WTO and owner of Pranavam Homestay. The road passing through Bandipur forest remains closed for vehicular traffic from 9 pm to 6 am, following a 2010 order of the Karnataka High Court.
Meanwhile, Sumesh Mangalassery, the Chairman and Managing Director of Kabani Tours, a social enterprise based on tourism in Wayanad, shared a different perspective. "Tourism will not flourish in Wayanad if it's not inclusive. We have to ensure participation of farmers, who form the majority of the population in Wayanad. Besides, we have started experiencing the ill effects of climate change in Wayanad, too. Congress party has a very promising outlook towards dealing with the issue of climate change. I hope under Rahul Gandhi's leadership, we will be able to evolve a sustainable tourism development model for Wayanad ensuring win-win for all," he said.
In 2018, Wayanad received 11,607 FTAs (Foreign Tourist Arrivals), which is 29.04 per cent higher than the figure in 2017. The district recorded an increase of 8.89 per cent in domestic tourist arrivals in 2018. As many as 8,88,141 domestic tourists visited the place in 2018 as against 8,15,624 in 2017.
Wayanad is like a deep tunnel; the more you explore, the greater the chances of you finding something new. Wayanad's travel and tourism stakeholders are expecting nothing short of a bonanza in the upcoming season. Vajpayee did it for Kumarakom by staying there for a few days. Rahul Gandhi has five years, and perhaps more. Wayanad is optimistic for sure.
Where to stay?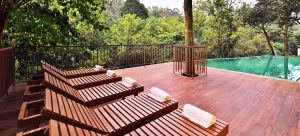 Abad Brookside, a luxury resort of Abad Hotels & Resorts, is located at Lakkidi, one of the highest peaks in Wayanad district. Branded as a rainforest resort, the property has 13 brookside cottages, five garden bungalows and 12 brookside bungalows spread out on a seven-acre valley with an infinity pool, Ayurveda centre and a multi-cuisine restaurant. No doubt, this is your perfect place for unwinding in Wayanad.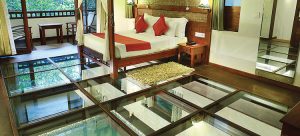 Vythiri Resort is an exquisite jungle getaway located in Wayanad, the place where Priyanka Gandhi camped for a night during the election campaign for Rahul Gandhi. She stayed at Honeymoon Pool Villa – with a private swimming pool and a glass-floored bedroom on the floor above besides a small living area.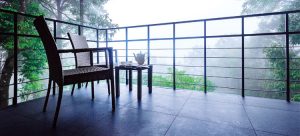 Wayanad Wild, from the house of the renowned CGH Earth Experience Hotels, sits at an altitude of 2700 m above sea level. The 12.50 acres of wilderness has everything for the nature lover – from fruit-bearing trees to wildflowers to small streams to dense forest. If you have ever wondered what it would be like to live completely off the grid, then this is your chance.
HOW TO REACH?
Air: Nearest airports: Calicut International Airport (Karipur); Kannur International Airport
Rail: Nearest railway station: Kozhikode
Road: Well connected by roads from Kozhikode (distance: 97 km); Ghat (72 km from Kalpetta), Ooty (120 km from Kalpetta) and Mysore (140 km from Kalpetta)
SPLASH 2019
Monsoon is definitely the best time to explore Wayanad. The eighth edition of Splash – Monsoon Carnival, a joint venture by Kerala Tourism and Wayanad Tourism Organisation (WTO), will be held at Vythiri Village Resort from July 11 to 14. For registration and more details, visit www.wayanadsplash.org.