Mumbai: In much less than a decade, Ras Al Khaimah (RAK), the northernmost emirate of UAE, has blossomed into a modern business hub and upscale tourist destination. My maiden visit to RAK was in 2006 when it was a sleepy little town with breathtaking beauty. The transformation of RAK under its ruler Sheikh Saud Bin Saqr Al Qasimi's leadership has been astonishing – from an economy that primarily provided raw materials to the rest of the UAE, to one that today houses industrial units, startups, educational institutions, financial services, real estate developments and a vibrant tourism sector. RAK did not have oil wealth to begin with; it has built its young success story relying on human capital – people from around the world live and work in RAK.
From ziplining, cycling, hiking, kayaking, biking to desert safaris and pearl diving, Ras Al Khaimah is every thrill seeker's paradise. Over the last few years, the emirate has expanded its tourism offerings by exploring the potential of its 7000 years of fascinating history and culture, year-long sunshine and 64 km of white sandy beaches, and is today the perfect getaway in the Middle East
In 2018, Sheikh Saud who took over the reins in October 2010, was honoured with 'Visionary Leader of the Year' Award at the Arabian Business Awards 2018. In his acceptance speech the ruler said, "My time on this Earth is limited but Ras Al Khaimah's success needs to be endless."
The economy of RAK has grown 200 per cent in the last decade (2008-2018). RAK has doubled its tourist numbers from 5,00,000 in 2013 to over one million visitors in 2018. By 2025, that figure is expected to grow to three million, contributing 10 per cent towards GDP, which is double the present number. From being a day trip for visitors to Dubai and sometimes an overnight, RAK is today sought after by value conscious travellers as an independent destination known for its world class white sand beaches, beautiful mountains, rugged deserts, year-long sunshine, adrenaline pumping adventure sports, and spectacular resorts, parks and cultural attractions. It is just 45 minutes from Dubai International Airport by road (non-peak hours).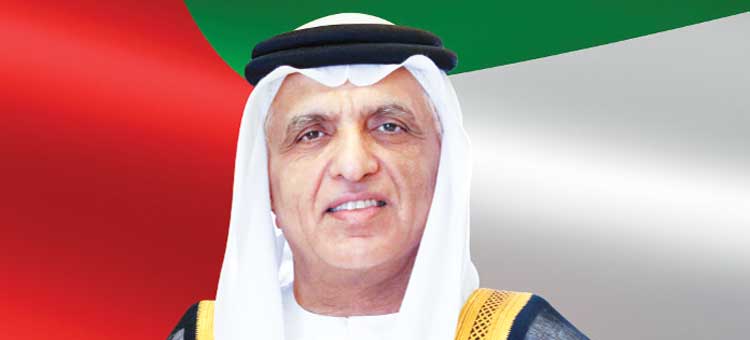 "My time on this Earth is limited but Ras Al Khaimah's success needs to be endless"
Sheikh Saud Bin Saqr Al Qasimi, Ruler of Ras Al Khaimah and Member of the Supreme Council of UAE
RAK recorded a 10 per cent growth in visitors last year compared to 2017, mainly led by the UAE domestic market which forms 38 per cent of overall visitations. Germany leads the international source markets with 83,605 visitors, followed by Russia, up by a significant 17 per cent on 2017. The third largest source market is the UK, up 11.5 per cent; India stands fourth, up 22 per cent; rounding out the top five is Kazakhstan with a growth of 28 per cent.
Ras Al Khaimah Tourism Development Authority (RAKTDA) has announced the launch of its new Destination Strategy 2019-2021. "As our tourism offering evolves in Ras Al Khaimah, we must ensure our destination is attractive to travellers who wish to explore beyond the resorts and hotels," said Raki Phillips, CEO, RAKTDA. "We will continue to create exciting offerings that focus on the emirate's pristine beaches, Jebel Jais (the UAE's highest mountain peak), natural beauty, culture and heritage; excellence in hospitality and unrivalled experiences in order to attract three million visitors by 2025."
The new Destination Strategy will also look to expand tourism driven employment. By 2021, RAKTDA aims to support the employment of 10,000 more people into the tourism and hospitality sector, nurture investment for small and medium businesses, and raise the overall competitiveness of the industry attracting increased international and local investment enabling an environment for sustainable growth.
Over 62,000 Indians visited RAK in 2018. Considering the huge numbers that flow into Dubai, RAK can welcome many more Indian tourists and hence has been aggressively marketing the destination in the sub-continent. Currently, RAK has majorly seen wedding tourism emanating from India, as the emirate boasts a diverse array of natural landscapes that appeal to visitors of every kind and weddings groups from India seeking an exotic destination with fantastic hotels at great value for money.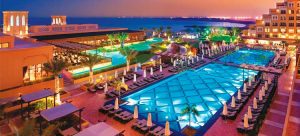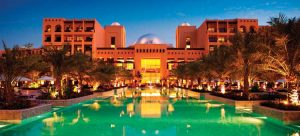 Some of Ras Al Khaimah's iconic properties like the Waldorf Astoria Ras Al Khaimah and the luxurious Ritz-Carlton, Al Wadi Desert, have played host to some high-profile Indian weddings. Other resort properties like the Doubletree by Hilton Marjan Island Resort & Spa, Hilton Al Hamra Beach & Golf Resort and Hilton Resort Ras Al Khaimah have also welcomed Indian weddings in the last few years.
According to a survey conducted by QnA International, the Middle East accounts for five per cent of the global destination wedding industry, which is valued at AED 330 billion, with the UAE ranking among the top destinations for couples in Asia, Africa and the Middle East to further cement its position as a hotspot for destination weddings.
"We welcome eight to ten weddings every year and the numbers are growing year on year," concurred Phillips. "We have many confirmed weddings for season 2019-20 and the queries are regularly being generated. This can also be attributed to our participation at various Wedding and MICE focused events in India in the last couple of years."
RAK is also dabbling with Bollywood in film tourism. "We have been getting queries for this segment and are working on it," added Phillips. "In the past, a couple of Bollywood movies have been shot in Ras Al Khaimah.
Bollywood stars are also regularly visiting the destination for their personal trips including weddings." Moreover, Ras Al Khaimah witnessed a Big Fat Indian Bollywood wedding in February 2018 when actor Mohit Marwah got hitched to Antara Motiwala at Waldorf Astoria.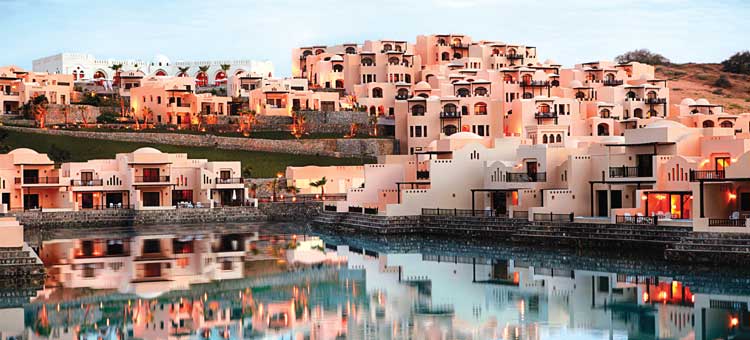 Expanding MICE tourism in Ras Al Khaimah has been another major focus. It has hosted many high profile conferences and events in recent years, the most notable among them being Arabian Hotel Investment Conference (AHIC) which was shifted from Dubai for the first time in 13 years. The Al Hamra International Exhibition & Conference Center is an impressive architectural milestone, spanning a total area of 4500 sq. m. with astonishing sea and garden views. Not only does the Centre contribute to the MICE tourism sector of RAK in a big way, but is also ideal for hosting large-scale events including weddings and private gatherings.
The haven of year-round sunshine, Ras Al Khaimah features a rich backdrop of spectacular landscapes, ranging from 64-km unspoiled, sandy coastline, lush mangrove trees and undulating terracotta desert, to fertile, green oases and the dramatic, awe-inspiring vistas of the majestic Hajar mountains, including the country's highest peak – Jebel Jais – where temperatures are around 10 degrees lower than sea level.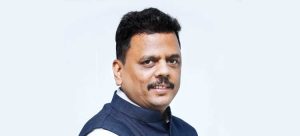 "Ras Al Khaimah has emerged as a preferred wedding and event destination offering an excellent array of options like large event spaces and unique open venues; equally seamless luggage handling for easy check-ins for large groups of people attending these weddings. Given the UAE's excellent pan-India access and connectivity, RAK is being seen as a popular choice with its diverse Indian cuisine options which is a key element for any Indian wedding. Known for its breathtaking coastlines and rich, terracotta desert planes, RAK is also witnessing a growing interest for adventure activities including zipline rides, sand dune bashing and mangrove kayaking, amongst others" – Rajeev Kale, President & Country Head – Holidays, MICE, Visa, Thomas Cook (India) Ltd.
Over the last few years, RAKTDA has launched three new ecofriendly adventure-based projects on Jebel Jais – positioning it as the nature adventure hub of the Middle East and complementing the offering of the neighbouring emirates. These include the Arabian Gulf's first commercial Jebel Jais Via Ferrata (mountain climbing) which features hiking and zipline challenges, the Jebel Jais Viewing Deck Park and Jebel Jais Flight: The World's Longest Zipline.
One of Ras Al Khaimah's key milestones in 2018 was the launch of Jebel Jais Flight, which has welcomed over 35,000 flyers since opening. This has put Ras Al Khaimah on the map, breaking the world record and strengthening the emirate's credentials as the fastest growing adventure tourism destination in the region. The emirate further increased its appeal for day trippers, staycationers and holidaymakers with the opening of a Viewing Deck Park at the top of Jebel Jais featuring seven viewing decks overlooking the Arabian Gulf and the spectacular Hajar mountains. A 47-room luxury mountain camp is also coming up sometime soon.
RAK is now in the process of developing the Mina al Arab coastal wetlands by providing a resort atmosphere in the area while preserving its natural beauty. The development of Al Marjan, a 2.7-million-sq. m. island complex with resorts, leisure, and retail opportunities on each of its four islands is also in full swing.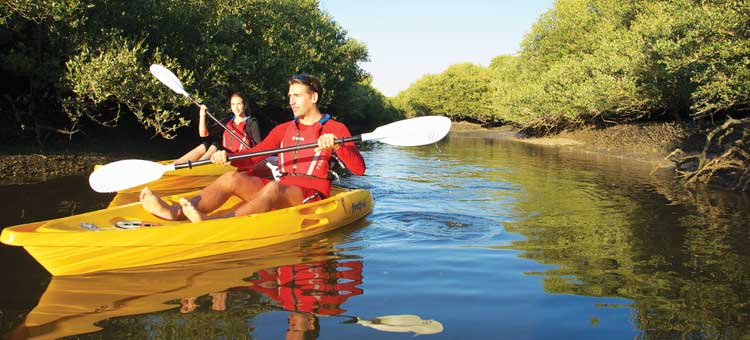 RAKTDA is encouraging private investors to set up mixed-use resort properties, including hotels, entertainment areas, convention facilities, luxury retail and fine dining. RAK is also opening overseas offices and organising trade roadshows throughout the year as part of its strategy to broaden its economy and use travel and tourism to add another vital element to its GDP.
According to the World Travel and Tourism Council, travel and tourism industry had a 5.1 per cent direct share in UAE's total GDP at AED 69.1 billion and is expected to account for 4.9 per cent of the GDP by 2028. At the same time, the total contribution of the sector including induced income, supply chain and other investment impacts is expected to increase to AED 234.2 billion by 2028, contributing to 10.6 per cent of GDP.
According to RAKTDA, Ras Al Khaimah had the second highest revenue per available room in the region at AED 402.2 ($109.6), average occupancy of 69.1 per cent in the first nine months of 2018 and the third highest daily room rate at AED 581.6 ($158).
All these have had a positive impact on the economic scenario of RAK. The per capita GDP of the emirate that was $15,240 in 2007-2008 is expected to rise to an average of $29,300 between 2018 and 2021 according to an S&P forecast.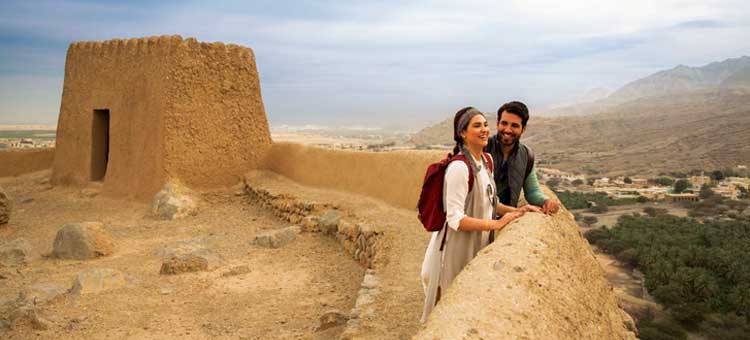 Ras Al Khaimah has identified the supply of new hotel rooms as a major focus moving forward in order to support the increasing popularity of the destination with tourists. It is preparing to add 5000 rooms to the 6500 currently available with the confirmed introduction of major global brands including Marriott, Movenpick, Sheraton, Anantara, Rezidor, Intercontinental and Conrad over the next three years. RAKTDA also signed an agreement with Airbnb in 2018, to launch and promote the room-sharing service in RAK. These developments will not only open more options for the travellers coming to the emirate but also allow for more differentiated hospitality options and at the same time open up the economy even more, giving more business and employment options to the people.
With a clear vision, RAKTDA is transforming RAK's natural gifts into tourism assets to benefit all.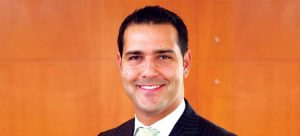 "As our tourism offering evolves in Ras Al Khaimah, we must ensure our destination is attractive to travellers who wish to explore beyond the resorts and hotels" – Raki Phillips, CEO, Ras Al Khaimah Tourism Development Authority
Ongoing Developments at RAK
There are many projects in the pipeline aiming at further enhancing Ras Al Khaimah's tourism offering and positioning.
Bear Grylls Survival Training Academy on Jebel Jais: A brainchild of Bear Grylls, the most recognized face of survival and outdoor adventure, the Bear Grylls Survival Academy offers thrill seekers an opportunity to learn his extreme survival techniques at 20 locations around the world. The partnership with the academy is a testimony to RAK's ongoing efforts to expand and develop its adventure tourism offering in what is fast becoming known as the region's adventure tourism hub. It will offer participants a wide selection of courses suitable for individuals of all ages and fitness levels
Hiking trails on Jebel Jais
Jebel Jais Adventure Park in partnership with Toroverde UAE featuring several new adventure products
Expected to launch this year are 'zipline tour', the 'Bull Maze' and controlled bungee jumping
48 HOURS IN RAK
There aren't many places in the world where you can start your day with hiking and climbing the mountains, unwinding by the scenic shoreline for a midday siesta, and rounding off the day with a gourmet dinner under the starry night sky.
Jebel Jais Flight: The World's Longest Zipline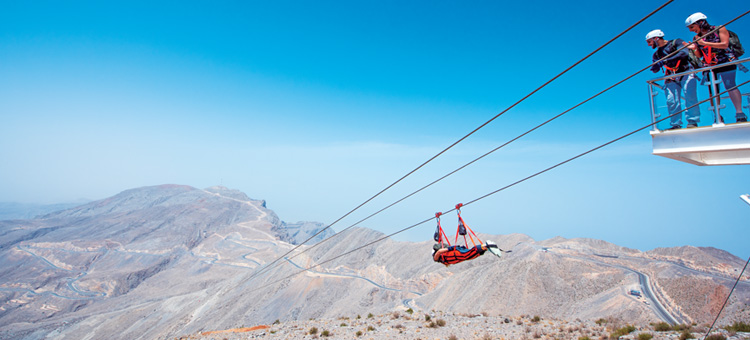 Earn your bragging rights as you fly down the length of a 2.83 km zipline at breathtaking speeds of 120-160 km per hour – all while you soak in panoramic mountain views at 1680 m above sea level. GoPro on rental is available on site. And original Passport has to be presented at the counter. This summer, soar through the skies with just AED 341.25 saving 50 per cent on Jebel Jais Flight when booking via www.jebeljais.ae
Suwaidi Pearls
Dive into Ras Al Khaimah's economic history at the Suwaidi Pearls farm – the first in the region to export locally sourced pearls to the world. A special guided tour helps visitors get acquainted with the historic significance of pearling and an insight into the lives of pearl divers, followed by a glimpse into the process of 'cultivating' pearls in current times. Enjoy a host of immersive activities including the oyster opening experience (to find and keep your own pearl), underwater diving, kayaking, mangrove tour, and a traditional Emirati lunch. The pearl farm tour starts at AED 300 with lunch provided at an additional fee of AED 50. For more information and booking,
Al Wadi Nature Reserve
Located within Wadi Khadeja in Ras Al Khaimah, the beautiful Al Wadi Nature Reserve is a 1235-acre protected area home to a huge array of local wildlife. Here, you can begin the day with bird-watching, observe an Arabian Oryx basking in the sun, watch as a baby gazelle takes its unsteady steps and follow the tracks of geckos, beetles, hares and foxes with a guided nature walk. Adults and kids alike will love the variety of nature-based adventure activities available including archery, nature walk, stargazing, tree planting, camel ride, horse ride and many more within the pristine desert landscape. For more information and booking, call +971 7 206 7777 – visit: www.suwaidi-pearls.com