By Dileep Kumar P I
Jaipur: It was our long-pending wish to visit The Great Indian Desert, Thar, in Rajasthan. Hailing from the lush green State of Kerala, we haven't had much of an idea about life in a desert. Though Rajasthan is famous for its mighty forts and magnificent palaces, we decided to skip all those for experiencing the real rural life in a desert. We booked our accommodation for three nights at Desert Hermitage at Garha village 90 km from Jodhpur on the National Highway 125 to Jaisalmer. Desert Hermitage was recommended by a friend who had given us a fair idea about the property.
Surrounded by sand dunes, Desert Hermitage in the Thar in rural Jodhpur offers a once-in-a-lifetime experience
We booked our flight to Jodhpur from Kochi via Mumbai. Jodhpur airport is under the Indian Army which reminded me of the Naval Airport at Willingdon Island in Kochi.
We came out of the city quickly through the bypass road and entered the NH 125 to Jaisalmer. After 10 km or so from the city, barren landscapes began appearing on both sides of the highway with shrubs dotting these sandy areas. There were only a few varieties of vegetation like the common Khejri and Neem trees, and plants like Madar and Cactus. We crossed small villages on the way where we found people engaged mostly in rearing cattle. Sandstone mines could also be seen along the way.
Our car took a left turn from the NH 125 at Jawahar Nagar junction towards the village road leading to Garha. The resort is about 6 km further into the desert from the main village road, located inside a large compound protected by green fencing and stone slabs. The huge iron gates of Desert Hermitage were opened by the guard when he spotted our car coming from a distance. Inside the compound there is a large car parking area which is again separated by a wall from the resort, so the vehicles parked there will not be visible to the inmates. There is a long driveway from the gate to the resort building lined by fairly large trees providing much-needed shade.
We got down in front of the reception block. Standing there, we got to capture the amazing sight of the entire resort which was quite impressive than what we saw in pictures. The L-shaped resort block facing the garden in the middle has two types of accommodation; five circular-shaped traditional cottages and four modern villas. Our hosts Karan Singh Bhati, his wife Anjana Bhati and their younger son Digvijay Singh were waiting at the entrance to receive us. Since we had started at around 2.30 am from Kochi, Karan advised us to have lunch and take rest for a while, and we accepted his thoughtful suggestion. Our room was in the villa section and interestingly those villas are named after the martyrs from the village who laid down their lives while defending our nation from the enemies. The circular cottages are named after the Gallantry award winners from that region.
The Banwar Villa (No. 4) was as big as a suite. Banwar was a Sepoy of the Indian Army who lost his life at the age of 22 during Kargil War. The villa has a private courtyard at the entrance with garden seating and a large balcony on the opposite side facing the gardens. The size of the bedroom is unusually large, bigger than any luxury hotel room. It is constructed using local sandstone, hard wood panels and glass. The walls and floors are mostly cladded with thick wooden panels. The full-length windows fitted with glass facing the inner courtyard and at the balcony allow plenty of natural light to come in. There is a king-size bed plus a rollaway bed placed in the room with fresh and crisp linen. Amenities included air conditioning, room heater, LED TV with cable connection, telephone, Wi-Fi, and tea and coffee-making facility. The bathroom and vestibule areas are also quite spacious with all essential items. The bathroom has a shower cubicle with an option for open sky view. There is a large wooden wardrobe outside the bathroom fitted with a full-length dressing mirror.
Lunch was served within 15 minutes at our room. It was vegetarian and we found all dishes very tasty. Food is a major highlight of this place. All the ingredients are locally sourced within 40 miles of this resort. For Keralites like me, North Indian cuisine means Dal Makhani, Palak Paneer, Butter Chicken, Pulao and Roti/Naan. But we couldn't find any of these dishes in our meals served during our four-day stay in this place! For desert folks fresh vegetables and fruits are a luxury, and they make their daily food using dry vegetables, leaves, besan flour, bajra flour etc. Cooks are all from the local area and they are trained in star category hotels in Jodhpur, giving them lessons in food safety and hygiene. My wife and I are vegetarians. On our departure day the Head Cook even surprised us by serving hot idlis and crispy vadas with sambar and chutney. My daughter relished different varieties of mutton preparations, including the famous Laal Maas. The taste of Gatta Curry, Gatta Biriyani, Corn and Palak Curry, Kofta Curry, Mirchi Pakoda, sweet dish made with broken wheat etc. still lingers in our mouth.
In the evening, we met Karan Singh in the garden just before sunset, and the outside temperature was about 18-20 degree Celsius. A seasoned hotelier, Karan started his career with The Oberoi Group and later held senior positions with Accor Group, HRH Group, Le Meridien, Club Mahindra etc.
Desert Hermitage was started by his father the late Brigadier Uday Singh Bhati; who was awarded the 'Maha Vir Chakra', the second highest gallantry award of the country. After retirement, he returned to his ancestral house at Garha. Initially, his focus was to bring basic facilities like electricity, water, telephone connection etc. to that remote area. Parallel to that, he also worked to improve the facilities provided to the ex-service personnel hailing from that region. Those days a defence service pensioner had to walk 20 to 40 km to collect their pension from the treasury of the nearest town. Even after reaching the treasury, they had to stand in the queue braving the hot sun. At Brig. Bhati's initiative waiting sheds with seating, drinking water and toilet facilities were made at those treasuries and canteens.
Brig. Bhati started Desert Hermitage to create employment opportunities for the village people, but his untimely demise caused the place to remain shut for a couple of years. Karan took over the resort in 2014 and went for a massive makeover adding four villas and the doors were again opened to the visitors last year.
We spent more than two hours with Karan that evening and he gave us an authentic account of the socio-cultural and economic conditions of the rural population in the desert. Our advice to those who wish to visit Desert Hermitage is never miss a session with Karan, it would be like missing the sight of the tiger at a wildlife reserve!
According to Karan, life is still challenging in the desert. People have to walk several miles in hot sun to fetch a pot of drinking water, even primary schools are far away from villages and they have to live with very limited resources. But there are some advantages also; there is no pollution with air quality remaining excellent and sound pollution is nil. When we went out to the dunes in the evening, our driver was Capt. Kheram, a retired honorary captain, who was in his 70s. The desert was so calm and silent. The candle light dinner arranged on top of sand dunes was a life-time experience for us!
While saying goodbye to Karan's family and resort employees, we genuinely felt that this place is not just a resort but an institution which helps change the lives of the rural people.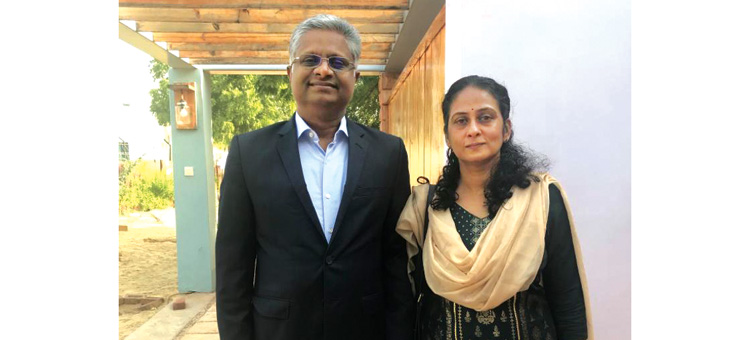 (A veteran hospitality professional, the author is the CEO of Intimice Hospitalities based in Kochi)