Goa: The Goa International Travel Mart (GITM) was held from October 23 to 25, 2019, at Dr. Shyama Prasad Mukherjee Indoor Stadium at Taleigao. The prestigious B2B event which returned after a gap of five years, brought together travel companies, and enterprises involved in leisure, hospitality, ecotourism, adventure, wildlife, wellness and nightlife, MICE organisers, event managers and wedding planners under one roof to showcase the tourism potential of the State. The upbeat mood was marred by the weather playing spoilsport and Cyclone Kyarr hitting the State.
Held after five years, Goa Tourism's prestigious B2B event, GITM 2019 has brought together all stakeholders under one roof highlighting the tourism potential of the State
Dr. Pramod Sawant, Chief Minister of Goa while inaugurating GITM said that as the principal economic activity in the State ever since mining was banned, his government accords topmost priority to tourism. The CM promised that proposals for investment in tourism sector will be cleared within 30 days through single-window mechanism. Beyond its famed beaches, adventure, heritage and MICE tourism are the new focus areas to enhance receipts from tourism. He announced that the new greenfield airport at Mopa will be ready in 2022. Dr. Sawant directed Goa Tourism Development Corporation (GTDC) to conduct GITM every year. The Chief Minister also launched a new marketing film for Goa Tourism.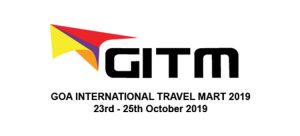 Manohar Ajgaonkar, Deputy Chief Minister and Minister for Tourism, said that the creation of the new Tourism Policy of the State is being fast-tracked and other contentious issues like Casino Policy and Beach Shack Policy are being resolved in consultation with all stakeholders. J Ashok Kumar IAS, Secretary Tourism, Government of Goa; Nikhil Desai, MD, GTDC and Savio Messias, President, Travel and Tourism Association of Goa (TTAG) also attended the inaugural ceremonies at the gigantic pillar-free hall of Park St. Regis.
"In a short span of time", "very soon", "we are discussing the matter with all stakeholders" and many similar responses were heard at the media briefing with Secretary Tourism Kumar and GTDC MD Desai. Goa used to welcome just 15-20 cruises annually till a few years ago but now double the number is calling on the State. A Cruise Policy has been in place since the last few years. Mormugao Port Trust has dedicated cruise and berthing terminals. Panaji has a dedicated jetti for river cruises too and work on a world-class terminal will commence soon.
Work on a dedicated helipad is underway and will complete in the next few months. The government has tied up with Pawan Hans for the helicopters and soon coastal, heritage and water-world tours will commence. In mid-December, Goa Tourism will launch a facility in Baga Beach hosting daily one hour cultural shows and adjoining it will be a Goan food village.
The Casino Policy is still under development and the shifting of offshore casinos from the Mandovi river to another more suitable location is under consideration. The onshore casinos will also be shifted and one of the possible sites is the Gaming Zone planned next to the Mopa airport, but no decisions have been taken yet. The uncertainty has ruffled the casino operators who have put in significant investments already.
This year's GITM was on a larger scale than the previous years, hosting 125 international buyers from US, UK, France, Germany, Austria, Hungary, Baltics, CIS, Australia, New Zealand, Croatia, Bulgaria, Israel, Jordan, UAE, Italy, Czech Republic, Russia, Poland, Norway, Finland, Denmark, Sweden and Malaysia. On the domestic tourism front, GITM saw over 150 buyers. Leading industry associations like TTAG, IATO, ADTOI and ATOAI supported the event. In attendance were also members of the national and international travel media and around 25 bloggers.