Istanbul/Antalya: Though not the best of friends, India and Turkey have remained engaged working out the differences and striking a balance with a fair amount of give and take from both sides. All that changed in September 2019 when Turkish President Recep Tayyip Erdogan delivered an explosive speech at the UN General Assembly on Kashmir and his support for Pakistan. Miffed at the way Turkey took the Pakistan line on Kashmir, India joined the international chorus against Turkish military action in Syria and issued a travel advisory warning Indian citizens not to visit the country.
For a nation that has witnessed the vagaries of time and vicissitudes of fate, Turkey – a compelling destination for leisure and business – has many inspiring stories to tell
Yet the trans-continental nation invited a travel trade media group from India to visit Istanbul and Antalya in November. 1.94 lakh Indians (more than the 2018 figure) visited Turkey in the first ten months of 2019 (a 59 per cent rise). Turkey would have attracted 35,000 more Indians by December 2019. Close to 20 Indian destination weddings have been hosted this year. Frequently held from April to November, Indian weddings have recently begun to continue through the winter season in the Mediterranean resort city of Antalya, which has become the most sought after, closely followed by Istanbul and Bodrum. India ranks second in group events after the USA and first in wedding tourism.
In 2018, Turkey became the world's sixth most visited country with 46 million tourist arrivals and in all probability crossed 52 million visitors in 2019. The tourist arrivals in Istanbul during the first nine months of 2019 increased by 12 percent year-on-year to 11.3 million, according to the latest figures of the Ministry of Culture and Tourism. The number of tourists to the city would have crossed 15 million by December. More than 15.5 million tourists from 193 countries visited Turkey's 'tourism capital' Antalya in 2019, setting an all-time record. Tourism incomes constitute 3.5 per cent of Turkey's GDP; the aim is to touch 8 per cent by 2023.
---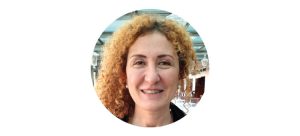 "ICEC is centrally located with 5000+ hotel rooms in walking distance. Hence ideal for a world-class event be it conference or exhibition of any scale. Add to that the culturally and historically rich backdrop of the city and extremely hospitable people. We have a robust pipeline of confirmed bookings and continue to engage with PCOs and DMCs to host more and more events. For international events, ICEC has an attractive package now where you pay for three days if the event is for five days"
Handan Boyce | General Manager | ICEC
---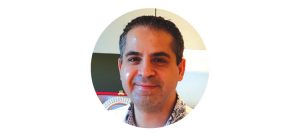 "India is one of the emerging destinations for Antalya as we are focusing on diversifying our source markets. For the last three years, we have been promoting the destination in India and if we can welcome 1,00,000 visitors in the next few years, that would be great. We have already hosted five big Indians weddings in 2019 and have eight more confirmed till mid of 2020"
Erkan Yagci | President | Mediterranean Association of Touristic Hoteliers
---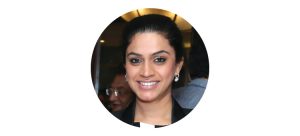 "Turkey is a very diverse destination which can satisfy both the mass and class markets. So we are diligently choosing marketing channels including media vehicles that can effectively reach both the segments"
Komal Seth | Director | Linkin Reps (PR & Media Representative for Turkish Culture & Tourism Office India)
---
Among those who visited Turkey for tourism purposes in 2018, Russians topped the list with 6 million visitors followed by Germans (4.5 million), Bulgarians (2.3 million), 2.2 million from the UK and another 2 million from Georgia, according to the Turkish Statistical Institute (TurkStat). The terror attacks and coup in 2016, frosty relations with many nations, international criticism for its interference in Syria – none of it seems to have impacted Turkey's tourism prospects. Turkey aims to reach 75 million tourists and $65 billion in revenues in 2023, according to TUROB (Hotel Association of Turkey).
The world's largest airline by destinations served (317) and the world's largest airport are also Turkey's own. We flew their national carrier and landed at the brand new Istanbul Airport opened in early 2019. The airport, a work in progress, is stunning with space and comfort being key. When completed in 2025, it will be able to handle 200 million passengers.
Around 3 billion people live in the countries which are only within six hours of flying distance from Turkey which makes the gateway city to Europe and Asia, a compelling destination for leisure and business. Direct flights to India have always been an issue especially for Antalya but now Turkish Airlines and Indigo have a code share in place. Also a new charter flight to Antalya from Delhi has commenced very recently.
Indian tourists visit Istanbul primarily for culture tours (history, architecture, gastronomy) and Antalya for its Mediterranean beach resorts, perfect for wedding and honeymoon. All major hotels in Istanbul and Antalya have vast meeting facilities, making them ideal for MICE.
Turkey is a melting pot of cultures and influences thanks to its chequered history. At various points in its history, the region has been inhabited by diverse civilisations including the Assyrians, Greeks, Thracians, Phrygians, Urartians and Armenians.
For a nation that has witnessed the vagaries of time and vicissitudes of fate, Turkey is truly inspiring. It's varied landscape shaped by seismic disturbances, cultural and religious monuments reflecting various influences of architecture and design, mouth watering gastronomy steeped in Ottoman heritage, and more than thousand kilometres of sun-kissed Aegean and Mediterranean beaches, make Turkey truly tantalizing.
Istanbul
Formerly known as Byzantium, Constantinople and New Rome, Istanbul is one of the world's most populous cities and Turkey's economic, cultural and historic centre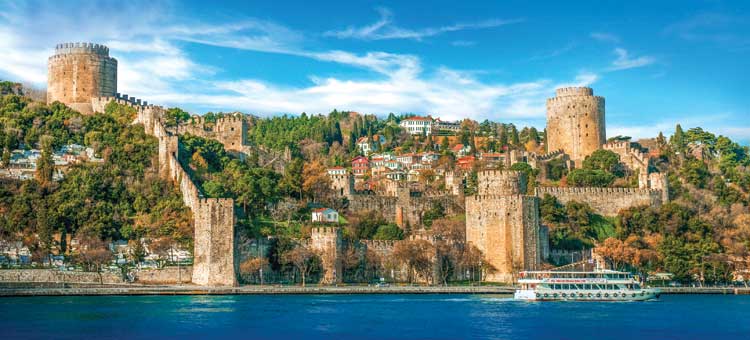 Dining
Güney Restaurant
Güney Restaurant with views of Galata Tower, started in 1964 by serving Turkish and Ottoman delicacies, and continues today by adding Mediterranean and world cuisine to its menu.
Deraliye Ottoman Cuisine
In the heart of Old Istanbul, next to Hagia Sophia and a few steps from Topkapi Palace, Deraliye offers a selection of dishes that used to be served at the court of the Ottoman Empire. Guests can participate in display cooking.
Dubb at Hilton Istanbul Bosphorus
Dubb Indian Bosphorus Restaurant serves the best of Indian cuisine for lunch and dinner. Located on the roof of the hotel, it offers panoramic views of Bosphorus. There are two VIP rooms that can be used for private events too.
Sofia Garden Cafe at Hagia Sofia Mansions
Beside the Hagia Sophia Museum, Sofia Garden Cafe comes with an enchanting stone fountain, lush greenery and all-day dining. The speakeasy-style bar has aperitifs, light snacks and a wide choice of traditional and innovative drinks. Don't forget to delight in Shisha at this unique open-air setting.
Shopping
İstiklal Avenue or Istiklal Street is one of the most famous avenues in Istanbul, located in the historic Beyoğlu (Pera) district. It houses boutiques, music stores, bookstores, art galleries, cinemas, theatres, libraries, cafés, pubs, nightclubs with live music, historical patisseries, chocolatiers and restaurants.
Where to stay?
Conrad Istanbul Bosphorus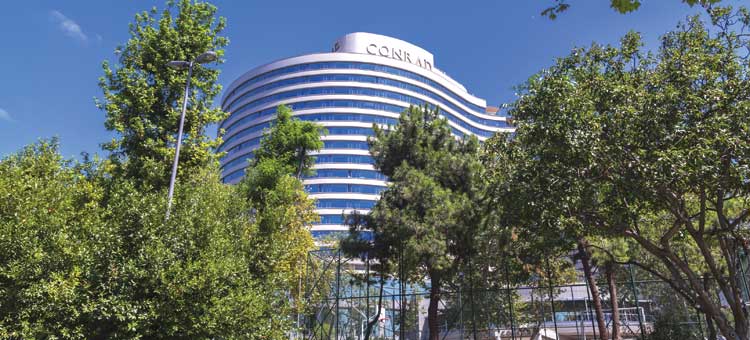 553 rooms, including 76 suites boast supreme comfort and stunning views of the Bosphorus or the magical city of Istanbul. Host events at the Ballroom for up to 1100 pax, or at the Panoramic Terrace or Bosphorus Lounge.
Hilton Istanbul Bosphorus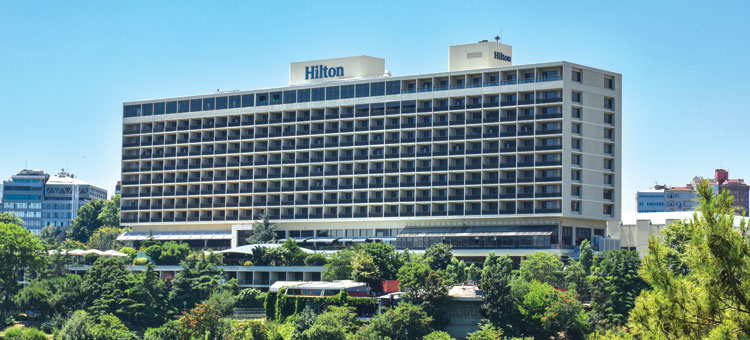 Nestled in the heart of Istanbul, an iconic hotel with a storied past spanning six decades. 500 guest rooms, including family rooms & suites offer private balconies overlooking the Bosphorus and the Old Town. 27 meeting rooms, including an on-site Convention and Exhibition Centre for up to 3000 guests.
Grand Hyatt Istanbul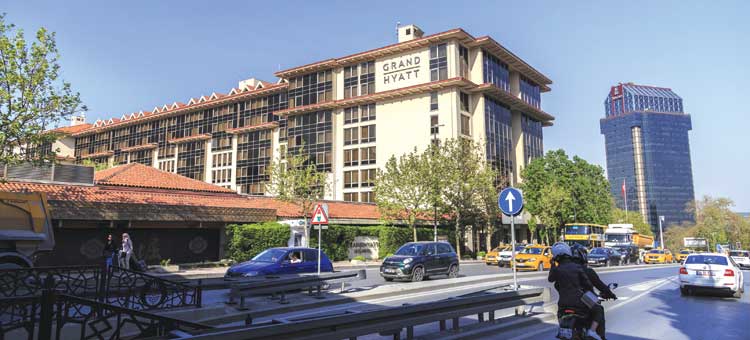 360 guestrooms and suites with breathtaking views of the city, garden, or the Bosporus, as well as striking décor, plush bedding, and luxe marble bathrooms. Take advantage of 1966 sq. m. of flexible meeting and event space, including a Grand Ballroom for 500 pax.
InterContinental Istanbul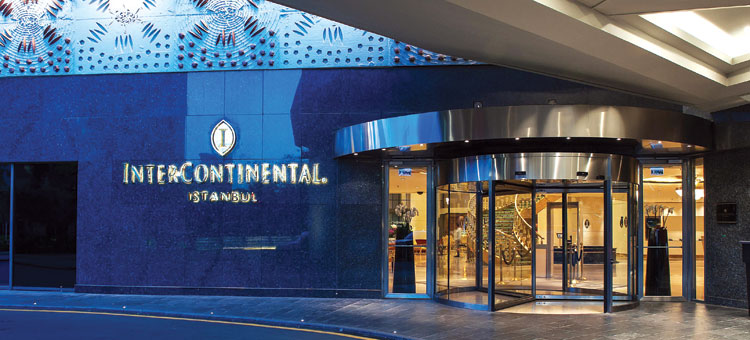 Located in the modern Taksim district, it has superior rooms and suites with spectacular views over the Bosphorus. The meeting facilities include three ballrooms which can accommodate up to 900 pax.
The Ritz-Carlton Istanbul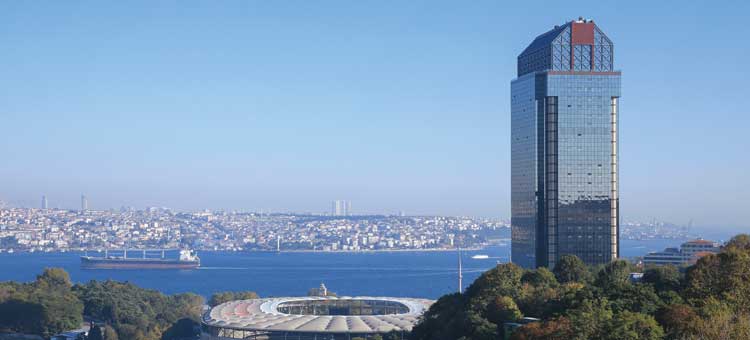 Set on the banks of the Bosphorus, the five-star hotel integrates European style with Turkish tradition. It features 243 redesigned guest rooms and suites, an outdoor spa, nearly 26,000 sq. ft. of event space and three restaurants and bars, all with Bosphorus views.
Divan Istanbul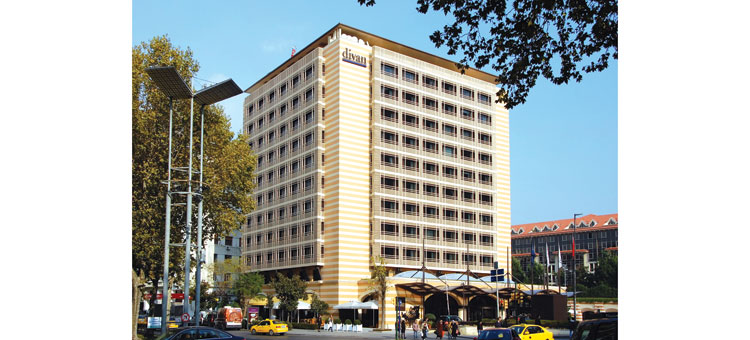 At walking distance from Taksim Square, this flagship five-star hotel of local hospitality major Divan Group, is just a few steps away from the lively Istiklal Street.
ICC (ISTANBUL CONGRESS CENTER)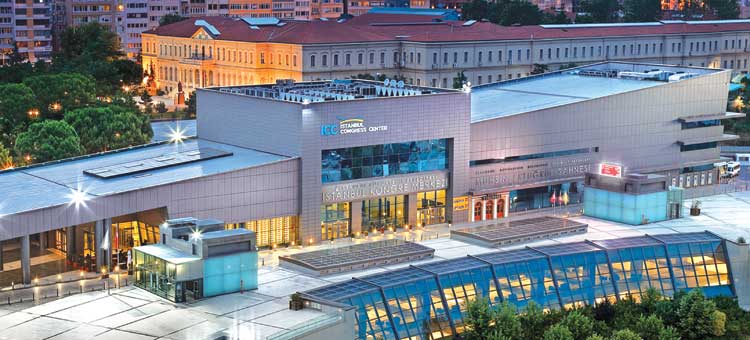 Spanning an area of 1,20,000 sq. m. on a total of eight floors, ICC is the largest in Istanbul and hosts social, cultural and professional events of all kinds, including but not limited to national and international congresses, conferences, symposiums, corporate meetings, fairs, exhibitions, concerts, musicals, and theater and movie premieres. ICC and ICEC are inter-connected.
ICEC (ISTANBUL CONVENTION AND EXHIBITION CENTER)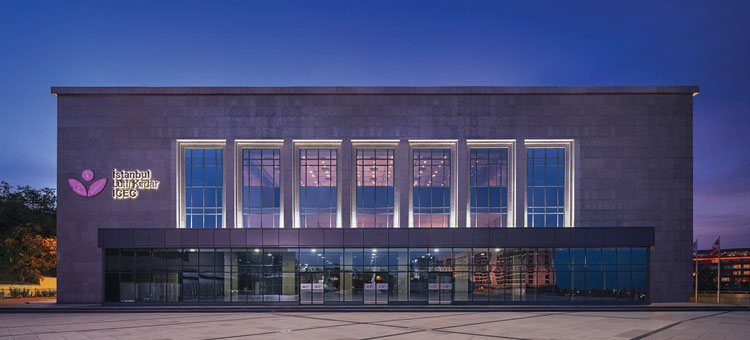 The main building (Lütfi Kırdar Center) has 19 meeting venues including the biggest Anadolu Auditorium (2000 pax) and VIP rooms. Borsa Restaurant, one of Istanbul's finest Turkish à la carte restaurants is also located here. Rumeli Fair & Exhibition Hall offers an area of 7000 sq.m. on two floors. Maçka Terrace has breathtaking view of the Bosphorus, with its unique landscape architecture, and can host 5000 people.
What to do?
Galata Tower
A medieval stone tower in the Galata/Karaköy quarter of Istanbul, just to the north of the Golden Horn's junction with the Bosphorus. It is a 9-story, cone-capped cylinder that dominates the skyline and offers a panoramic vista of Istanbul's historic peninsula and its environs. The Romanesque style tower was built as Christea Turris (Tower of Christ) in 1348. There is a restaurant and café on its upper floors which have views of Istanbul and the Bosphorus. There are two operating elevators that carry visitors.
Çemberlitaş Hamami
The historical Turkish bath, located on Divanyolu Street was constructed in 1584. There are separate dressing and bathing zones for men and women with masseurs and masseuses respectively. Traditional style bath including body scrub and bubble costs TL 255 and a Luxury Style bath which also includes a 30 min oil massage comes at TL 415. Wrap (Pestamal) and towels are provided. Children are allowed. Open from 6 am to midnight, busy time is 4 to 8 pm.
Hagia Sophia Museum
A former Greek Orthodox Christian patriarchal cathedral, it was later an Ottoman imperial mosque and now a museum. Built in AD 360 at the beginning of the Middle Ages, it was famous in particular for its massive dome. It was the world's largest building and an engineering marvel of its time. It is considered the epitome of Byzantine architecture serving as inspiration for many other Ottoman mosques, including the Blue Mosque, a UNESCO® World Heritage Site.
Blue Mosque
Sultan Ahmed Mosque also known as the Blue Mosque is a functioning mosque, attracting large numbers of visitors. It was constructed between 1609 and 1616 during the rule of Ahmed I. Hand-painted blue tiles adorn the mosque's interior walls, and at night the mosque is bathed in blue as lights frame the mosque's five main domes, six minarets and eight secondary domes. It sits next to the Hagia Sophia, a UNESCO® World Heritage Site.
Grand Bazaar
The Grand Bazaar in Istanbul is one of the largest and oldest covered markets in the world, with 61 covered streets and over 4000 shops on a total area of 30,700 sq. m. The Grand Bazaar at Istanbul is often regarded as one of the first shopping malls of the world. Ideal place to buy curios, carpets, clothing, leather goods, spices, local snacks, pottery, accessories and the like. Beware of counterfeit products from international labels.
Bosphorus Cruise
The shimmering expanse of the Bosphorus strait divides Istanbul's European and Asian sides. Viewing this mesmerising city from the waters offers a new dimension to this destination. Spanned by three awe-inspiring suspension bridges and linking the Black Sea with the Sea of Marmara, is the vibrant Bosphorus waterway lined with fabulous palaces, stunning mosques, world-class hotels and imposing public buildings. Scheduled group tours on large boats and bespoke cruises on private yachts are available.
The Princes' Islands
A cluster of nine islands southeast of Istanbul in the Sea of Marmara and a perfect day trip from Istanbul. Mainly car-free, the islands are known for their bicycles and horse-drawn carriages (phaetons). The many waterfront restaurants serve excellent seafood fare. There are ferries from mainland to the islands (90 min one way). Check out Lokma, fried dough balls soaked in sugary syrup.
Season
Spring and Autumn, from April to May and September to mid-November respectively, are the ideal times to visit Istanbul. Avoid culture tours in summer (May-July) as the temperature soars above 40 degrees Celsius.
---
Antalya
The 'tourism capital' of Turkey with more than 500 five-star hotels, is globally renowned for its pristine beaches. The 'all-inclusive' tariff makes it especially attractive for incentive groups and is already a favourite destination for weddings & honeymoons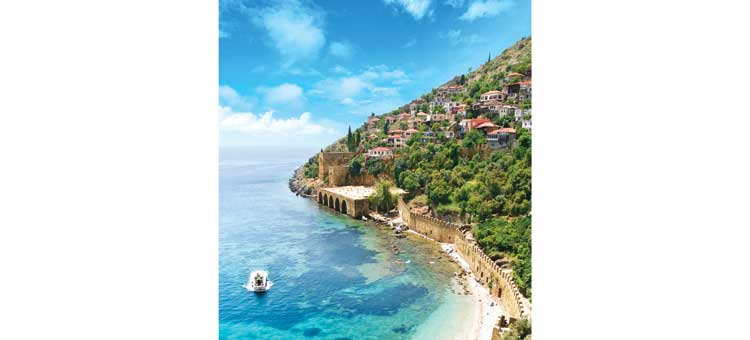 Where to stay
Susesi Luxury Resort, Belek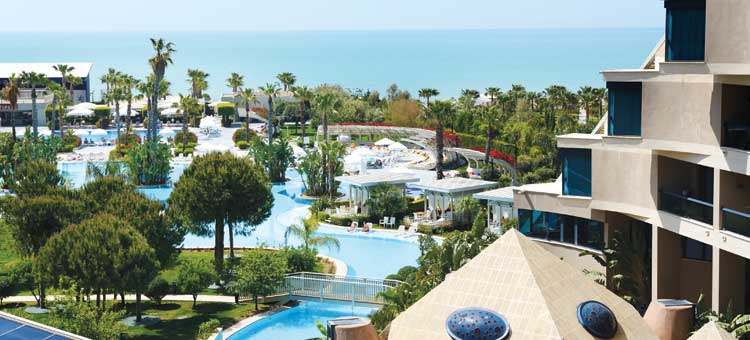 Susesi (sound of water) has 553 rooms including suites and terrace houses, an aqua park with six slides, private access to a Blue Flag beach, 7500 sq. m. of swimming pools and many bars and restaurants. La Calisse Spa offers two heated pools with glass ceiling, two marble hammams and state-of-the-art beauty treatments. Susesi is also ideal for events – 6600 sq. m. of indoor meeting area, with 17 meeting halls (the largest one covering 1800 sq. m.) and a 3600 sq. m. daylight foyer section. It is one of the largest congress centres in the Mediterranean region.
Concorde De Luxe Resort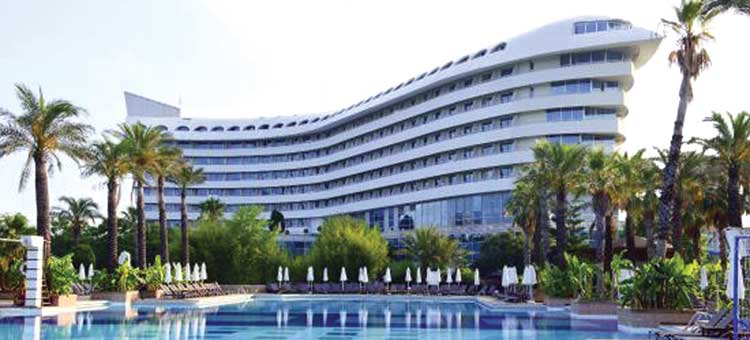 Stay at this all-inclusive resort offering 401 air-conditioned rooms featuring minibars, LCD televisions, furnished balconies and private bathrooms with shower/tub combinations and complimentary toiletries. This resort has 2750 sq. m. of meeting space. The complex is minutes from Antalium Premium Mall and close to Lara Beach, Butterfly Park Antalya and Tat Golf Belek.
Swandor Topkapi Palace, Kundu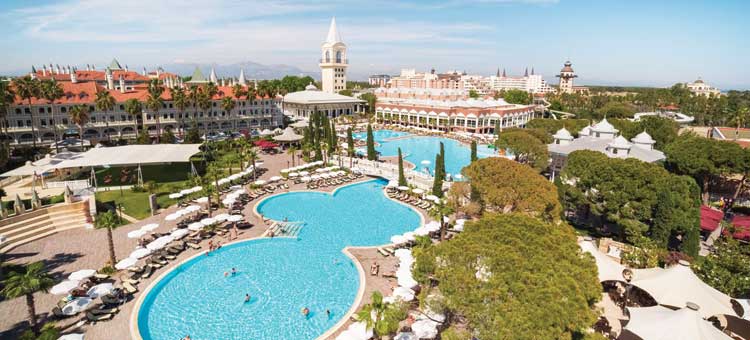 Inspired by the great Topkapı Palace in İstanbul this recently renovated property offers the opportunity to experience the times of Sultan Suleiman the Magnificent and his beloved Roxolana. Enjoy 10 restaurants, bars & patisserie; kids club; spa. For those who love to party, there's Xone Event Area – fabulous concept parties, live DJ performances and fascinating laser shows.
Asteria Hotels Kremlin Palace, Kundu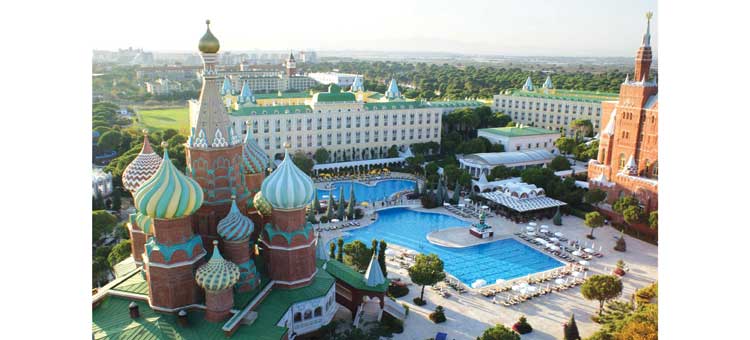 Inspired by the original palace in Russia, Asteria Kremlin Palace offers the chance to discover the home of the Russian Czars. With 875 rooms, a private beach, a wide selection of pools and water sports facilities. This all-inclusive resort provides six á la carte restaurants and seven bars. The biggest meeting hall can take 3000 guests.
Venezia Palace Deluxe Resort, Kundu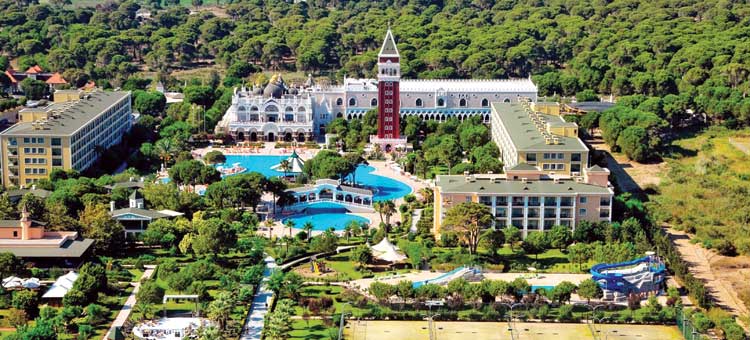 Designed as a copy of St. Mark's Square in Venice, Venezia Palace Deluxe Resort is set on a 1,00,000 sq. m. land, just a few steps from its private beach area. This five-star hotel offers rooms with balcony, massive pools, extensive spa facilities and many restaurants & bars.
Titanic Mardan Palace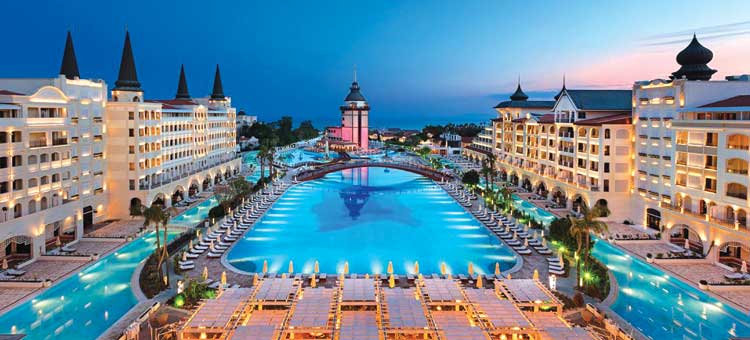 The architectural design of Titanic Mardan Palace pays homage to four of İstanbul's most iconic landmarks – highlighted by the 2800 sq. m. Dolmabahçe lobby. There are eight à la carte restaurants, bars and lounges; KLAFS-designed spa, lagoon-style pools extending to a private sandy beach and rooms with balcony.
Spice Hotel & Spa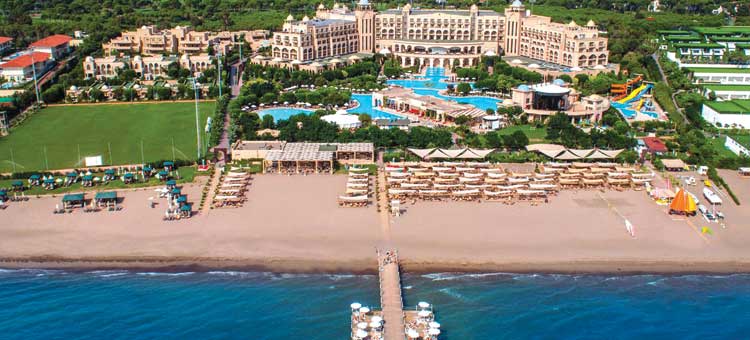 The hotel stands on a 91-hectare sea facing plot and has 546 rooms, 42 family rooms and 22 executive villas. There are many bars and restaurants, multiple venues for up to 1000 guests, spa, kids club and aquapark. PM Modi and his team stayed here during the G20 Summit in 2015.
What to do?
Aspendos Theatre
It is the most well preserved Roman theatre outside of Italy (it may even be the best-preserved antique theatre in the world). What makes the Roman theatre built in 155 AD so magnificent is its spellbinding height of 315 ft. and capacity of 12,000 people. The theatre is so massive that tourists visiting feel engulfed by its splendour. Every year, the theatre is home to an International Opera and Ballet Festival.
Land of Legends
Theme Park, Hotel and Shopping Avenue: one can spend a whole day or two here easily. Aqua Park featuring 43 waters slides and eight pools; Adventure Park with 24 rides; Shopping Avenue with 115 shops; and Kingdom Hotel with 401 rooms. The 62 m-high Hyper Coaster touching speeds of 115 km/hour is perfect for adrenaline junkies.
Old City Tour
Historical architecture is concentrated in the walled city, Kaleiçi. The Old City of narrow cobbled streets and Ottoman era houses, most of which have been converted to boutique hotels, bars, clubs, restaurants, and shopping outlets, has been restored to retain much of its historical character. It is surrounded by two walls in the shape of a horse nail, one of which is along the seafront. The historical harbour is located in this part of the city. The tour starts from Republic Square and ends at Hadrian's Gate; a highlight being the Yivli Minaret.
Lycian Way
It is one of the world's great long-distance hiking trails, regularly featuring in top-10 lists for its unique combination of Mediterranean views, mountainous hinterland, Turkish culture and ancient ruins.
Season
March to May (Spring) and September to November (Autumn), although the shoulder season, is the best time to visit Antalya. November to March is perfect for MICE tourism
Shopping
Old City: You will find many shops along the Old City Tour selling curios, accessories, pottery, clothing, leather products and the like.
Beware of counterfeits: It is surprising to see 'copies' of ultra luxury brands being sold even in the shops within five-star hotels. Merchandise with labels of LV, Gucci and Chanel, lying on the floor and selling for a song!!!