Mumbai: Ethiopian Airlines has announced that it will commence services to Amman, Jordan as of July 16, 2019. Located between the desert and the fertile Jordan Valley, Jordan's capital Amman is a city of contrasts and a fascinating destination for holidaymakers.
Commenting on the new services, Group CEO of Ethiopian Airlines, Tewolde Gebre Mariam, remarked, "We are very glad to announce that we have finalized preparations to start flights to Amman in Mid-July. As one of the ancient civilizations offering an enchanting mix of modernity and tradition, Jordan is an awe-inspiring destination for tourists. The inclusion of Amman in our route map will increase the cities we serve in the Middle East to over 10. With the upcoming services, business and leisure travelers will enjoy convenient connectivity between Amman and the vast network of African cities Ethiopian Airlines serves through its Addis Ababa hub, which has emerged as the major gateway into Africa."
The thrice weekly direct flights to Amman will be as per the below schedule: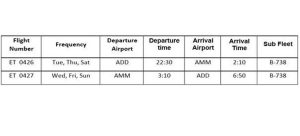 Over the years, Ethiopian Airlines has been opening new routes steadily as laid out in its strategic roadmap, Vision 2025. In addition to Amman, Ethiopian will also launch services to Houston, Marseille and New York (John F. Kennedy Airport) going forward.