Visakhapatnam: Five years after the bifurcation resulted in the formation of Telangana, Andhra Pradesh's woes do not seem to end. In July, The World Bank pulled out of a $300 million loan proposal to build its new capital city on the banks of river Krishna at Amaravati. But construction can continue as the central government has already sanctioned Rs. 1500 crore for various works.
But this 'two steps forward, three steps backward' approach has been the hallmark of Andhra Pradesh (AP) since the split. To start with, Telangana walked away with Hyderabad, the crown jewel, where most of the development was myopically concentrated over many years. The AP government continues to blame the bifurcation for all its problems. Add to that political one-upmanship leading to current government blaming the previous regime for inheriting many of those. The common man – the poor voter, and the investors and entrepreneurs are the hapless caught in the crossfire.
If policy flip flops and bureaucratic red tape continue to strangulate progress, Andhra Pradesh can kiss good bye to the investors it courted for PPP model of tourism development
The new YSR Congress government's decision to halt and review all tourism projects flagged off by the previous TDP government has cast a shadow over the future of tourism development in AP. Many of the projects were on track to be completed this year. Chief Minister Jaganmohan Reddy wants to review all ongoing tendering processes and also specific tenders of the last five years!
Last year, 37 beach destinations were developed by Andhra Pradesh Tourism Development Corporation (APTDC), and this year 12 more were added to the list. Another six were to be identified and developed but with the new government directive, AP's ambitious plan to transform its 974 km coastline for tourism has been stonewalled. The Bhavani Island project on public-private partnership (PPP) model has also been grounded. Bhavani Island yacht terminal and sea lion park were to be completed this year. The second edition of Formula One H2O powerboat world championship an event beamed live to over 50 countries and Kondaveedu Fort project also seem doubtful. The Rs. 2.5 crore Pandrangi-Krishnadevipeta tourism project; Rs. 2 crore Pudimadaka project and Rs. 7.7 crore Palli Project (artisan's village) at Madhuravada are included in this. The Kalingapatnam beach resort project may be shelved too as the private players involved are yet to receive the green signal. However, the central government-funded Buddhist Circuit for which funds have been released, has been green lighted.
Lambasingi Resort project, Araku Flavour Coffee Lab, Ananthagiri and Erra Matti Dibbalu glass restaurant are almost ready and will be opened soon though no dates have been officially communicated for the inaugural.
The Tourism Policy released in 2015 (2015-2020) after the bifurcation had earmarked Rs. 10,000 crores for developing tourism in AP. Effective promotional campaigns and marquee projects, such as the 240-acre tourist zone and the Naval Heritage Museum, both in Visakhapatnam, the Adventure Sports Academy at Gandikota (Grand Canyon of India), the recreational facilities on Bhavani Island, a Formula 1 racing circuit at Tanakallu in Anantapur, besides 12 village tourism projects were expected to rejuvenate the State's tourism industry. But five years hence, these plans are either still on paper or running way too slow.
A report which appeared in The Hindu (India's national newspaper) dated December 16, 2018 was titled 'AP Tourism – A Monumental Neglect.' The article says that the State is speckled with tourist spots such as islands, beaches, hills and historic forts, but many of them reflect a monumental neglect. What could be transformed into vibrant tourist hubs, languish in dilapidated state for want of attention.
For instance, the picturesque Bhavani Island on river Krishna, dubbed as a 'prized possession' of AP Tourism, continues to be a 'not-fully-explored' lagoon with vast scope for development. The wait also seems to be endless for smaller projects such as the Gandhi Hill (planetarium and library), the significant Salihundam Stupa in Gara mandal of Srikakulam, the ropeway projects at Kotappakonda and Gandikota or the grooming of the beaches. The renovated Kondapalli Fort and the Adventure Sports Complex at Gandikota were finally opened in February 2019.
The Tourism Policy has undergone a couple of revisions thanks to its business unfriendliness. Also the reason why the much touted PPP model for investments in tourism remain only on paper as the many MoUs signed at grand events are not translating into projects on the ground. The third round of proposals to clean up the Tourism Policy awaits approval from the government. AP seems to be relying on high profile gimmicks (events) to avoid focus on lack of real strategy or planning as far as tourism is concerned. Last year's A R Rahman live in concert as part of Kakinanda Beach Festival cost the exchequer Rs. 5 crore! Could the government have spent that whopping amount on cleaning up the beaches, is a question on many sensible minds.
AP welcomed 16.57 crore visitors in 2017-18 of which 0.03 crore were foreign nationals clocking 8 per cent YoY growth in domestic and -20.6 per cent growth in FTAs. Of this about 2 crore pilgrims visit the State for Tirupati.
At the IATO Annual Convention in Visakhapatnam last year, the former Andhra Pradesh Tourism Authority (APTA) CEO Himanshu Shukla had said that the State had been divided into four tourism hubs – Amaravati (the new capital), Visakhapatnam, Tirupati and the picturesque Konaseema area in East Godavari district. Concerted efforts were being made to develop tourism facilities in all the four identified areas. He had said that proposals for 195 tourism projects, entailing an investment of more than Rs. 15,000 crore, had been received during the three successive partnership summits of the CII. He informed the travel community that of these projects, 74 had been grounded and the rest would take off soon and be completed in the next two or three years. That is about 120 projects. There is no clarity whatsoever on the status of any of these!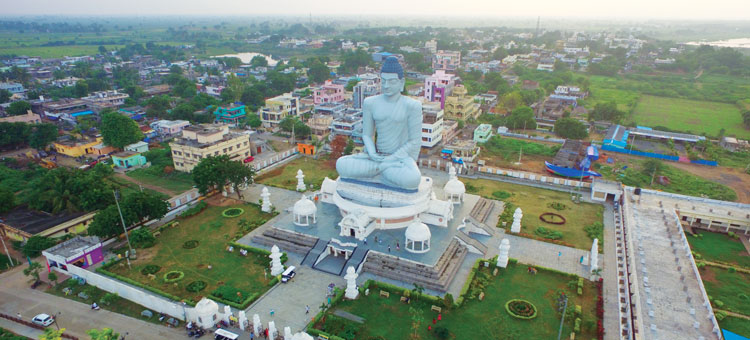 AP has 1 five-star deluxe hotel, 7 five-star hotels, 5 four-star hotels and 20 three-star hotels totalling 2913 classified rooms as per MoT report released in 2017. Now 7 five-star hotels are under construction according to APTB. For 10 more five-star hotels, land has been allocated and for another 7 star rated hotels land will be allocated soon was the promise made at the IATO Annual Convention. In all, the State will have more than 30 five-star hotels by 2021. From the present level of 10,000 quality rooms in star hotels, the State will have 15,000 hotel rooms said the CEO. But based on MoT report citing 2913 rooms, it is unclear how APTB is able to count 10,000 rooms.
In late June, Pravin Kumar IAS, known as the 'Salman of Vizag' for developing the city during his six-year tenure as the District Tourism Council chief, took charge as the managing director of APTDC and the CEO of APTA. He has been credited with developing Rushikonda Beach Front and Rushikonda Beach Road, collectively known as 'Rushikonda Maniharam', as the most-featured tourist attraction in the city and allotting government lands for development of tourism in the district. Visakhapatnam was included in the list of smart cities and global summits such as BRICS Urbanisation Forum and CII Partnership Summit were held in the city during Kumar's tenure.
State Minister for Tourism, Culture and Youth Advancement, M Srinivasa Rao (Avanthi Srinivas) feels that AP has the potential to earn decent revenue from tourism like Kerala and Goa. "There are opportunities for temple tourism at Tirupati, river tourism in Rajahmundry and Vijayawada, sea tourism at Visakhapatnam and mountain tourism in Araku and Paderu, besides the various options offered by the coastline in the State, among the longest in the country,'' he said. Underscoring the need for developing tourism spots, he said the government would encourage investors in the sector and will give them approvals online. The AP government is planning to appoint a brand ambassador for promoting tourism.
The government has increased the budget for development of infrastructure from Rs. 50 crore to Rs. 275 crore and has got Rs. 270 crore from the central government to develop various projects all of which are pending – Araku ecotourism, Bheemili jetty, Kalingapatnam and akinada jetties, Buddhist circuit, Simhachalam prasadam project are all pending.
The AP government is planning to develop better tourism facilities across the State and streamline processes to generate more revenue from the sector. "Firms interested in establishing infrastructure under the public-private partnership (PPP) model will be encouraged and put through the 'single window' system for transparent and quick processing," said Minister Avanthi Srinivas addressing the media recently. There are plans to organise at least one State-level activity every month. He said the Department of Tourism would focus on publicising its events to draw international and local tourists besides improving the facilities and hospitality that would make tourists feel safe and secure at the tourist spots.
The government of AP had a major setback in July when the central government rejected its DPR (Detailed Project Report) to convert the decommissioned aircraft carrier of the Indian Navy, INS Viraat, as a tourist attraction – a floating maritime museum-cum-star hotel to be berthed in Visakhapatnam. The Centre did not want to take any chances after the bitter experience with government of Maharashtra over operating India's first aircraft carrier, INS Vikrant, as a maritime museum after it was decommissioned.
At a recent meeting of the tourism minister with department officials, 16 new projects were reported as proposed. The tourism department officials are preparing comprehensive DPRs to identify whether the projects can be taken up with Central Financial Assistance of the Ministry of Tourism or with the funds from the State Budget, or through PPP.
Development of tourism amenities at Ramateertham; construction of resorts at Thatipudi reservoir in Vizianagaram district; integrated tourism projects and resorts at Madhurawada and Rushikonda in Visakhapatnam; Simhachalam-Padmanabham–Appikonda Shivalayam-Panchadarla Shivalayam tourist circuit in Visakhapatnam district; budget hotel at APTDC site in Rajahmundry in East Godavari; convention hall at a tourism site along the National Highway at Eluru in West Godavari; and integrated tourism project at Nagulavaram in Guntur district, are among the proposed projects. A temple tourism project at Vedagiri; water sports and resorts at Kandaleru in Nellore district; hotel at Kanipakam and ecotourism project at Kailasanatha waterfalls in Chittoor district were also put forward.
In the Rayalaseema region, an ecotourism project at Brahmamgari Matham; integrated tourism project at Gandikota in Kadapa district; adventure park at Valmiki Caves; and tourism amenities at Sivalayam of Devaragattu in Kurnool district were tabled.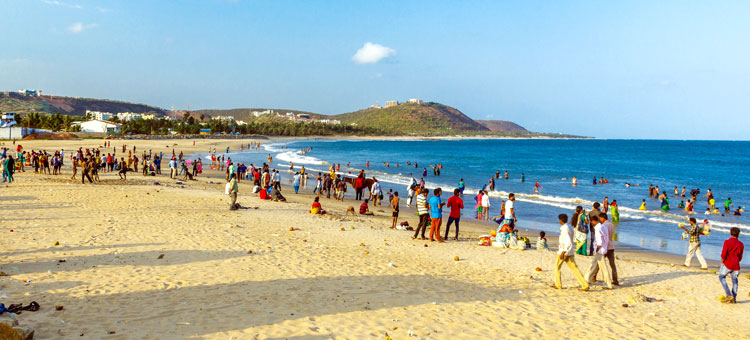 Few tourism projects are also ready for inauguration and include restaurant at Erra Matti Dibbalu in Visakhapatnam; drive-in restaurant at Haritha Resorts at Araku; dormitory and wooden cottages at Samalkot; interpretation centre at Adapur in Kadapa district; dormitory and restaurant at Shaik Sha Vali Dargah at Ellarthi in Kurnool; and dormitory and two restaurants at Anantapur and Madakasira in Anantapur district.
Foundation stones will be laid for two finalised tourism projects coming up at Perupalem and Kunchanapalli of Tadepalligudem in West Godavari district.
Deputy Chief Minister Pamula Pushpa Sreevani, in reply to a question at the State Legislature said Rs. 23.80 crore was allotted under the ST Sub Plan for development of tourism in Paderu, Parvathipuram and Seethampeta from 2013-14 to 2016-17. Of this, Rs. 15.70 crore was released but only Rs. 1.72 crore was spent. The government has proposed to develop the Araku ecotourism circuit in Visakhapatnam with Rs. 156 crore under the Swadesh Darshan Scheme of the central government. Jagathipalli resorts and Tribal Haat at Araku would be developed at an investment of Rs. 7 crore each.
Shelf ongoing projects and announce new ones seem to be the current YSR Congress government's style. And 'ropeway projects' seems to have caught their fancy with ministers making similar announcements for every possible destination.
The ropeway projects at Kotappakonda, Gandikota and Ahobilam are all on the drawing board or WIP forever.
Andhra Pradesh has tremendous potential to harness tourism to grow the economy. If the political leadership eschews one-upmanship with previous regimes and the bureaucracy becomes more professional and accountable, the State with fabulous beaches, terrific adventure getaways and authentic Buddhist sites can easily outperform any State in India. Tirupati and temple tourism which require no hard sell can be a bonus. However, if policy flip flops and bureaucratic red tape continue to strangulate progress, AP can kiss good bye to the investors it courted for PPP model of development and progress.
Buddhism
The Maurya emperor Asoka was responsible for the spread of Buddhism in this part of the country during the 3rd century BC when Andhradesa was part of his domain. The Mahastupas at Dhanyakataka (Amaravati), Bhattiprolu and the rock cut caves at Guntupalli and several monasteries at Salihundam where also constructed during this period. Both major and minor rock edicts of Ashoka engraved at Erragudi and Rajula Mandagiri in Kurnool district bear testimony to this fact. Most of the Buddhist sites in Andhra Pradesh have witnessed all the three phases of Buddhism namely Theravada, Mahayana and Vajrayana.
Website
Goandhrapradesh.com, the new website of AP Tourism is slow and takes ages to download. The font is very unfriendly too.
APTDC Balaji Darshan Tour Package
In April, APTDC launched a brand new tour package for travellers who wish to visit the famous Tirumala Temple located in Chittoor district. The package has been designed to let visitors perform darshan, and also visit other temples such as Srinivasa Mangapuram, Tiruchanur and Srikalahasti. The tour package starts from Vijayawada at 10 PM, and returns to the city on the third day by 5 AM. The package costs Rs. 3775 per person for adults, and for children, Rs. 3000. The schedule runs every alternate day. The Balaji Darshan tour package includes an air-conditioned coach for travellers, along with food.
Book online at www.aptdc.gov.in
Kurnool's tourism potential
A great tourism project on paper is the Sculpture Hub which envisaged developing Allagadda (Kurnool district), one of the major stone carving centres in the State. At least Rs. 3 crore was sanctioned in July 2018. The official plan was to establish working areas for the traditional sculptors, selling counters (including examining the possibility for export) and a state-of-the-art 'Cultural Auditorium', to highlight the importance of the region. The developments were also aimed at improving the lifestyle and prospects of the sculptors. The Allagadda stone carvings have been bestowed with a Geographical Indication (GI) tag. However, despite GI tag and facilities provided by the government, the sculptors from Allagadda say their situation has not improved. The government has to pay dues worth Rs. 52 lakh to them for working on Bapu Museum in Vijayawada two years ago. Many young sculptors are not well-trained. When proper training is lacking, matching the standards that customers expect from a product with a GI tag is impossible. The government should conduct workshops and training programs to hone the skills of sculptors.
Another major emphasis should be on developing AP as a cradle of adventure tourism. Located 20 km from Kurnool, Orvakal boasts of three billion-years-old rock formations. In January, Kurnool airport became operational giving a fillip to tourism in the region. Orvakal Rock Gardens attained national stardom ever since the blockbuster Baahubali was shot here.
The site boasts hosting a series of activities such as hot air balloon rides, rock climbing, ziplining, rapelling, para motoring, bungee trampoline, etc. The officials have identified an unexplored underground cave system — Valmiki Caves in Boyavandlapalli village of Peapully mandal in Kurnool — and have enlisted the help of Italian speleologists to examine the feasibility of opening it to the public. The cave system's narrow entrance, which can only be accessed after a strenuous trek, treacherous drops of varying levels, rock formations, pristine water bodies and much more, would make it an ideal adventure spot, if everything goes according to the plan.
The department of tourism has identified two locations to develop boating facilities — Owk Reservoir and Chinna Cheruvu in Nandyal mandal of Kurnool district — besides improving amenities at the existing boating facility at Gargeyapuram. The entire operations, with regard to the latter, will be done on PPP mode.
Beaches of Visakhapatnam
Andhra Pradesh boasts of the second largest coastline among the states of India, which is 974 km long with 21 beaches dotting its shores. While Visakhapatnam is serenaded by a number of beaches, the most popular among locals is Ramakrishna Beach. Also known as RK Beach, it's the best place to watch Visakhapatnam come alive. For a quieter surrounding, and to take a dip into the waters, head to Yarada Beach. It's a half-hour drive from Visakhapatnam, this beach has safe waters to swim and is a great spot to spend idle moments. From the serene settings of Yarada, head to the azure waters of Rushikonda. A secluded beach, a natural rock structure called The Dolphin's Nose, and water sports like jet skiing and wind-surfing – there's a lot to experience along its clean shores. End your beach hike with a trip down history's lanes. Turn back the clock as you reach the coastal village of Bheemunipatnam. This former Dutch settlement, 25 km north of Visakhapatnam, showcases sights from a colonial era. Along with untouched beaches, Bheemili – as it is commonly referred to as – is home to an ancient clock tower, an old Dutch cemetery, a lighthouse as well as a motley crew of sights and sounds that'll take you back a few hundred years.
Swadesh Darshan and PRASAD
Development of Amaravati Town, Guntur District as a Tourist Destination approved under PRASAD Scheme in 2015-16 at the cost of Rs. 28.36 crore. Rs. 22.69 crore has been released so far.
Development of Srisailam Temple approved under PRASAD Scheme in 2017-18 at the cost of Rs. 47.45 crore. Rs. 37.96 crore has been released so far.
Development of Kakinada Hope Island Konaseema as World Class Coastal and Ecotourism Circuit (Kakinada Beach Front, Hope Island, Coringa Wildlife Sanctuary, Vodalarevu (now Passarlapudi), Aduru, Syanam, Kotipally, CCTV and Wi Fi) approved under Swadesh Darshan Scheme in 2014-15 at the cost of Rs. 67.84 crore. Rs. 64.44 crore has been released so far.
Development of Coastal Tourism Circuit in Sri Potti Sriramalu Nellore (Pulicat Lake, B V Palem, Irrakum Island, Venadu Island, Atakanitippa, Ubbalamadugu Water Falls, Nelaputtu Bird Sanctuary, Nellore Tank, Kotha Kaduru Beach, Mypadu Beach, Ramatheertham Temple and Beach, Iskapally Beach) approved under Swadesh Darshan Scheme in 2015-16 at the cost of Rs. 59.70 crore. Rs. 47.76 crore has been released so far.
Development of Buddhist Circuit: Shalihundam-Thotlakonda-Bavikonda-Bojjanakonda-Amaravati-Anupuapproved under Swadesh Darshan Scheme in 2017-18 at the cost of
Rs. 52.34 crore. Rs. 10.47 crore has been released so far.
Construction of Cruise-cum-Coastal Cargo Terminal at Chaneelbirth area in Outer Harbour of Visakhapatnam Port approved in 2018-19 under the scheme 'Assistance to Central Agencies for Tourism Infrastructure Development' at the cost of Rs. 38.50 crore. Rs. 19.25 crore has been released so far.
Sound and Light Show at Puttaparthy, approved in 2017-18 under the scheme 'Assistance to Central Agencies for Tourism Infrastructure Development' at the cost of Rs. 7.09 crore. Rs. 3.54 crore has been released so far.
Bhavani Island
According to the State government, Bhavani Island is one of the important destinations that would be overhauled in a year with proper amenities, improved greenery and gardens. Proposal for the construction of a fabricated structure to serve as a convention hall with a capacity of 500 pax is under consideration. Directions have been issued to increase security measures and create a police post with a sub-inspector on the island to ward off miscreants and make it safe for families. The island needs more rooms and amusement rides for children if it has to become attractive for families.
Adopt a Heritage
The project of Government of India Ministry of Tourism plans to entrust heritage sites/monuments and other tourist sites to private sector companies, public sector companies and individuals for the development of various tourist amenities. An MoU has been signed for developing tourist amenities at Gandikota Fort.
Temple Tourism
Tirumala Venkateswara Temple in Tirupati is one of the world's most visited religious sites. Other pilgrimage centres in the State include the Mallikarjuna Jyotirlinga at Srisailam, the Srikalahasteeswara Temple at Srikalahasti, the Ameen Peer Dargah in Kadapa, the Mahachaitya at Amaravati, the Kanaka Durga Temple in Vijayawada, and Prasanthi Nilayam in Puttaparthi.
Airport Development
Apart from the big two — Visakhapatnam and Vijayawada — Rajahmundry, Kadapa and Tirupati are set to expand operations this year with increased flight frequency, better connectivity, higher passenger traffic and longer runways. In January 2019, Kurnool airport was inaugurated as a New Year gift to the people of the State and Nellore's greenfield airport project launched with a timeline to completion of 14 months. Also on the cards, according to Airports Authority of India (AAI) officials is airports at Donakonda (Prakasam district) and Bobilli (Vazianagaram)
Vijaywada: Domestic and international flights; To begin night operations soon; Runway expansion underway and new integrated terminal building to be constructed in two years
Visakhapatnam: Domestic and international flights; eVisa entry for foreign nationals; Linear expansion of existing terminal building underway
Rajahmundry: Operates under UDAN RCS. Code 3C airport (can park only two small aircrafts); To become Code 4C airport soon (can accommodate wide body aircraft); runway expansion underway
Kadapa: Operates under UDAN RCS; Dawn to dusk airport; Night operations soon; Expansion of passenger terminal and runway underway
Tirupati: New integrated terminal building operational; runway expansion underway; 24×7 operations soon
VoA and eVisa
The government is making arrangements to have visa on arrival (VoA) facility at Vijayawada, Visakhapatnam and Tirupati airports to encourage international tourists. At present VoA is permissible only through international airports at Delhi, Mumbai, Bengaluru, Chennai, Kolkata and Hyderabad. Visakhapatnam is the only international airport in AP that is included in the e-Visa regime allowing foreign visitors to enter the country.
---
Unprofessional and Unacceptable
A detailed questionnaire sent to AP Tourism Authority did not elicit a response on time. It is a blatant display of unaccountability when government departments run on tax payers' money fail to respond to media. While the official version was that 'the CEO has not yet approved the responses', it makes one wonder 'will anything at all change ever?' Many States have renamed their Department of Tourism to a cool sounding 'State Tourism Authority/Board' and renamed the director of tourism, an IAS official, as CEO – AP being one of them. But as long as bureaucrats instead of trained industry professionals run the show, it is going to be old wine in new bottle as experiences on the ground show. A professionally run and accountable tourism authority/board will respond to media and take advantage of every PR opportunity. A professional CEO will empower the Chief Marketing Officer and PR machinery to feed content to media and not sit on approvals, which is a typical sarkari way of doing things. Time to change APTA.