Mumbai: Here are some of the best spas and wellness retreats spread all over the globe that help you rejuvenate your body and mind, imbuing you with youthful energy
MALAYSIA
Chi, The Spa at Shangri-La Rasa Sayang Resort, Penang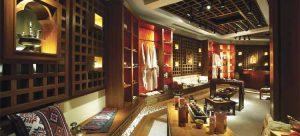 One of the hallmarks of Chi is spacious, private spa suites and villas, designed to create a 'spa within a spa' environment. Therapies are based on the ancient healing traditions, philosophies and rituals from Southeast Asia. The first Chi Spa in Malaysia is a veritable sanctuary with 3800 sq. m. of gardens complete with 11 treatment villas, yoga pavilion, reception, sanctum, all set beside one of the hotel's private pools. Signature therapies like the Rasa Hot Stone Massage and Traditional Malay Urut Massage use exotic local ingredients and traditional Malaysian techniques.
MALDIVES
Talise Spa at Jumeirah Vittaveli, South Mali Atoll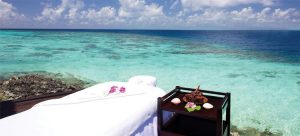 Treatments at Talise Vittaveli are inspired by the elements of light and space. The ingredients used in the treatments are hand-harvested by local communities using traditional farming methods to ensure that the healing life energy held in all living things is honoured, and handed down to you through unique products and treatments. Succumb to Talise Touch of Vital Power or Talise Touch of Oriental Essence which are 3/5/7-day wellness packages.
The Spa by Clarins at The Residence Maldives, Dhigurah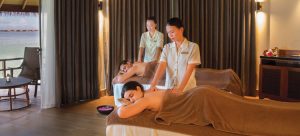 Begin the blissful journey of rejuvenation at The Spa by Clarins, a sanctuary for your senses nestled within lush tropical gardens, surrounded by the calm sound of the waves. The Spa by Clarins offers a bespoke range of holistic wellness treatments and retreats, designed to soothe and revitalise every part of your being. Balance, a 90 min. indulgent and truly pampering signature treatment uses Lava Shells which gently relaxes and smoothens away knots combined with a Bamboo Deep Relaxing Body Massage for an innovative experience to relieve stress.
Elena by Atmosphere at OBLU Select Sangeli
The elements of nature and its positive energies of Wood, Fire, Earth, Metal and Water fuel all living creatures and are quintessential for blissful living. At Elena choose from a carefully curated range of fitness programs and enjoy the value of raw food nutrition. Traditional Ayurveda therapies like Abhayangam (body massage), Shiro Dhara (warm medicated oil continuously streamed over the third eye stimulating the pineal gland) and Navara Kizhi (massage with medicated oil and a small linen bag filled with a special mixture of rice, traditional medicine and milk) are most sought after.
INDIA
Kairali – The Ayurvedic Healing Village, Palakkad, Kerala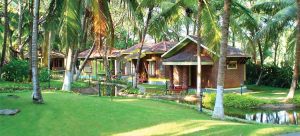 The Ayurvedic Healing Village remains true to ancient Vedic practices in every respect; from its highly qualified Ayurvedic doctors and renowned health practices to the Vaastu Shastra architecture of its 30 guest villas. Kairali offers personalised treatments and numerous detoxification programs, oriented around specific health aims, such as stress relief, arthritis, migraine, post pregnancy care, beauty and weight loss. Our course of Panchakarma, the essential Ayurvedic detox, is second to none in its quality, surroundings and delivery. Kairali – The Ayurvedic Healing Village was adjudged Continent Winner in Luxury Ayurveda Spa category at the recently-held World Luxury Spa & Restaurant Awards in St. Petersburg.
Kalari Kovilakom Palakkad and Kalari Rasayana Paravur by CGH Earth, Kerala
CGH Earth offers Ayurvedic treatments at both its healthcare facilities – Kalari Kovilakom and Kalari Rasayana. The treatment centers are certified and accredited by the NABH (National Accreditation Board for Hospitals and Healthcare Providers), and adhere to the strict tenets of the old school of Ayurveda. Treatments include complete detox, stress management, weight management, healthy ageing, and those for specific ailments and conditions.
Spa Alila at Alila Fort Bishangarh, Rajasthan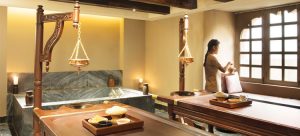 Located 6 km off the Delhi-Jaipur National Highway, Alila Fort Bishangarh is a 230-year-old fort that has been restored into a heritage hotel. Surrounded by lush green Aravalli ranges, Spa Alila offers guests unique and customised spa experiences in an opulent and authentic environment. Treatments such as The Roots of Jaipur and Shiro Dhara are the most popular among visitors. The extensive and exclusive spa menu combines both Eurasian and Ayurveda therapy techniques and showcases Spa Alila's selection of natural active ingredients.
Naad Wellness, New Delhi
Naad is a boutique 39-room wellness centre located in Kundli, on the outskirts of New Delhi. It is based on the principles of Ayurveda, Yoga & Naturopathy. The property features a bouquet of experiences that begin at three nights and go up to 28 nights, and include a combination of both experiential (Detox, De-stress) and medical packages (Diabetes Management, PCOS Management, Spine Care, Sports Injury Management).The packages start at Rs. 49,000 for three nights and includes all meals, therapies, yoga sessions and recreational activities.
SoSPA at Sofitel Mumbai BKC
The sight of soft sheer drapery dotted with decorative Indian elements surround you as you enter an ocean of tranquility at Sofitel Mumbai BKC's SoSPA by L'Occitane. Designed on a dedicated floor sprawling over 6000 sq. ft., comprising six magnificent treatment rooms, the elegant spa takes you on a voyage to discover your natural glow and rejuvenate your senses with rare ingredients. At SoSPA, original music and exclusive signature treatments by 'Gemology', is another indulgence which include the Relaxing Mother of Pearl Scrub (a customised body exfoliation rich in trace elements and minerals, leaving the skin deeply nourished); Customised Precious Stone Massage (the power of precious and semi-precious stones and rich minerals are absorbed by the skin leaving it nourished and energised, where Ruby & Rosewood are included for firming, Sapphire & Rosemary for toning, and Peridot & Ylang for regenerating).
Ruhab Horoscope Spa at The Fairmont Jaipur
Set amidst the picturesque Aravallis, Fairmont Jaipur's resplendent Ruhab introduces customised therapies for the 12 Zodiac Signs based on healing remedies suggested in the ancient Vedas. Relaxing, sensorial and social, the new treatments and rituals are created to offer a luxurious escape from the outside world where body, mind and soul are nourished and restored, leaving you energized from within. The signature treatments at Ruhab are specially curated keeping in mind the distinct traits of the elementary groups. Each sun sign is considered in light of its element and dosha, while massage therapies are proposed based on energy centres and other influences unique to the sign.
THAILAND
Devarana Spa at Dusit International Hotels
The Heavenly Nantha Garden Experience offers 2.5 hours of ultimate bliss. In ancient Thai literature, Nantha is described as a garden situated at Heaven's gate, with magical flowers and herbs. Devarana Spa brings the divine garden to life by gathering a generous amount of fresh pink lotus and champaca petals with the exquisite oil blend from ylang ylang and jasmine to create a truly heavenly experience. This soothing treatment comforts the skin and uplifts the mind. It includes Devarana Bath, Devarana Scrub and Devarana Massage that combines the strong pressures of Thai, Ayurveda and Shiatsu techniques with Swedish and aromatherapy influences for the ultimate in relaxation and pampering. Available at Dusit properties in Thailand (Pattaya, Hua Hin, Chiang Mai) and also at Manila, Maldives, Nairobi, Guam and Cairo.
UNITED STATES OF AMERICA
Hotel Palomar, Philadelphia
Only a few blocks from Rittenhouse Square, Hotel Palomar offers a personalized spa experience in the comfort and seclusion of one's room. Choose from a handful of natural, organic treatments like the Spirulina Body Wrap – a detoxifying treatment of pure salt-lake-harvested seaweed finished with a firming and purifying marine and lavender moisturizer.
Travaasa Hana, Maui, Hawaii
Boasting beautiful 180-degree views of both the Hana and Kaihalulu bays is the peaceful and luxurious Travaasa Hana resort. Thanks to its location on the eastern edge of Maui, Hawaii, the resort is one of the first on the island to see the rising sun. To unwind, head to the top-rated spa for a massage or a facial that will remove the toxins from a hectic day of traveling. The Hana Honey Body Wrap (Hawaiian herbal honey mask made with local organic honey and organic Hawaiian herbal extracts) or the Awapuhi Sugarcane Body Scrub (full body exfoliation) is worth every moment.
NEW ZEALAND
Mud Experiences in Rotorua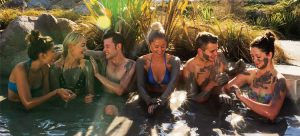 Rotorua has a number of different activities on offer that involve mud. Hell's Gate, one of the premier Rotorua experiences, offers mud baths, mud facials and a mud foot pool set in one of Rotorua's most active geothermal areas. At the world-famous Polynesian Spa visitors can indulge in different mud therapies including a mud body wrap. Guests are covered in a Rotorua thermal mud mask and then cocooned in sheets and towels before a relaxing scalp massage. Just outside Rotorua, the Wai-O-Tapu mud pool is the site of a large mud volcano which was destroyed through erosion in the 1920s. It now represents one of the most spectacular opportunities to experience the unique character and sounds of erupting mud and where the activity is always guaranteed. Te Puia – one of Rotorua's most popular attractions – has two impressive mud pools.
AZERBAIJAN
Salt Caves at Duzdag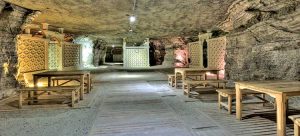 For centuries, people around the world have benefited from the power of salt therapy and the positive effects it wields on aging skin, asthma, allergic reactions and respiratory problems. Many salt-based treatments, such as inhaling infused steam, are offered in health resorts and wellness centres all over Azerbaijan. It is a must-try! Delve into the natural salt caves found in Duzdag, where the underground tunnels have been converted into a leading therapy centre, welcoming guests with a wonderful team of physicians and physiotherapists.
UAE
ShuiQi Spa at Atlantis, The Palm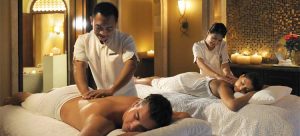 ShuiQi Spa & Fitness presents a memorable experience for guests. Set over two floors, beautiful tile work, high ceilings and water features create a serene environment. ShuiQi provides a sublime range of exclusive treatments, bathing options, and traditional therapies that boost wellbeing. One of the most unique spa treatments in this utterly luxurious spa is Shiseido Face & Body Experience (2.5 hours) – the perfect spa experience for both men and women commences with Kuroho Body Bliss – a thorough body exfoliation to deep cleanse, leaving your body feeling luxuriously smooth. This is followed by a blissful Qi body massage and a specialised facial.
SWITZERLAND
Grand Hotel Des Bains Kempinski, St. Moritz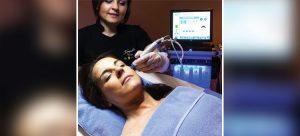 The spa at Grand Hotel Des Bains Kempinski, St. Moritz is well known for The Ultimate Hollywood Treatment. The HydraFacial MD® treatment merges soothing and invigorating spa therapies with advanced medical technology to achieve instant and lasting results. HydraFacial MD® is an advanced medical-grade skin care treatment that targets fine lines and wrinkles; congested, oily and acne prone skin; rosacea and hyper pigmentation. It softens the appearance of large pores, improves skin texture and tone, and helps repair existing sun damage. Recommended for all skin types, the HydraFacial MD® has been a favourite pre-red carpet treatment for the stars and is enjoyed by the Prince of Monaco and celebrities like Kate Winslet and Beyoncé!
The Chedi Andermatt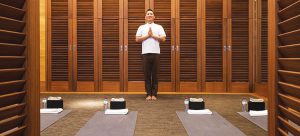 In the heart of the Swiss Alps, at 1447 m above sea level, this stunning hotel invites you into another world, a beautiful retreat set amidst the most stunning landscape in Switzerland. Not to mention The Spa, very unique in Switzerland – featuring a heated outdoor pool and a 35 m indoor pool that gives you a fantastic view of the surrounding Alpine scenery. In The Chedi's award-winning Asian-inspired The Spa, you will find ten luxury spa suites where the hotel's signature treatments offer a mix of traditional and Asian elements, immersing you in the world of the Orient. Other services include high-quality natural and exquisite product lines, exclusive bathing ceremonies, oriental pampering rituals and therapeutic massages.
GERMANY
Baden-Baden, Black Forest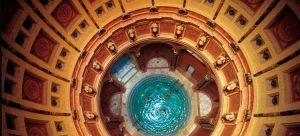 Located in the Black Forest, Baden-Baden is well known as a wellness and spa destination thanks to its curative thermal water that bubbles upwards from twelve springs. The charming town is an oasis for relaxation, but also a great destination for culture lovers, art enthusiasts and foodies. The modern Caracalla Spa and the historic Friedrichsbad as well as many exquisite spa-hotels offer unique wellness experiences and spa treatments – the perfect antidote to the stress of daily life. Best of all, almost everything is within walking distance and no car is needed while being in Baden-Baden.
MOROCCO
Les Bains de Marrakech
Inspired by the values of a traditional Moroccan hammam, Les Bains de Marrakech combines the luxury of a modern spa with the spirit of conviviality and sociability of authentic hammams. To bring the Hammam experience back to today's tastes, this spa combines professional care with a range of body care products to offer a memorable and refreshing experience. Couples can enjoy private massages together, while families or groups of friends can relax in the bathing areas away from the intrusion of the world.
Ksar Char-Bagh, Marrakech
True to the requirements of the Relais & Chateaux label, it goes without saying that the spa experience of Ksar Char-Bagh is unmatched. Set amongst groves of figs and olive trees, this Moorish-style spa creates a soothing atmosphere as soon as you enter it. Once inside, you are transported to a majestic refuge designed to relax and soothe all your senses. Sweet Arabic music, incense and candles are used to create a deep mystical atmosphere conducive to soothing the spirit while a combination of scrubs and oil massages will give energy and life to your entire body.
MEXICO
NIZUC Resort & Spa, Punta Nizuc in Cancun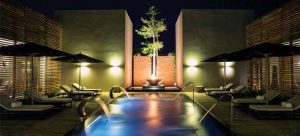 A secluded beachfront property, part of the Legend Collection with Preferred Hotels & Resorts, at Punta Nizuc in Cancún, its 29 tranquil acres on the Caribbean coast offer a slice of paradise with stunning scenery and an array of activities. Guests can choose to relax in the stylish suites or private villas, play tennis, enjoy live Cuban music, or roll some cigars. The resort offers the finest, first-of-its-kind ESPA-branded spa in the Mexican Caribbean. Indulge in complete beauty and wellness programs, featuring exclusive ESPA treatments and products, such as the NIZUC Thermal Experience (aromatic steam room, cold plunge pool, relaxation solarium, sauna, thermic loungers, vitality pool with hydro-massage, exterior spa pool).
CHINA
Spa at Raffles Shenzhen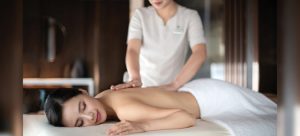 This sensory retreat spanning 1500 sq.m. (with five treatment rooms & one couple suite) provides plenty of space to indulge. All treatment rooms and suite come complete with private changing rooms, showers and Aromatherapy amenities. Professional therapists are on hand to provide advice on treatments that suit the needs of each individual guest from over 40 unique spa treatments.
Raffles Shenzhen Spa uses special spa Biologique Recherche's products which for more than 40 years have built a strong reputation for astounding effectiveness based on a clinical approach to skincare, delivering immediate and long-lasting results. Combined with highly customized protocols and meticulous procedures which recondition the epidermis, Biologique Recherche's skincare products are highly concentrated in botanical, marine and biological active ingredients that are cold formulated in its own laboratory in France.
KENYA
Tulia Spa at Sarova Whitesands Beach Resort & Spa, Mombasa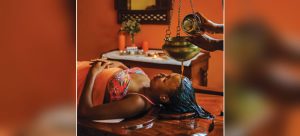 Tulia is the Swahili word for relax and the spa is designed to help you rejuvenate and feel revitalized. Tulia Spa at Sarova Whitesands Beach Resort & Spa is set in a quiet zone at one end of the resort overlooking the sea. This offers privacy and complete relaxation. Facilities include massage bandas, Ayurvedic massage rooms, outdoor jacuzzi, reflexology pool, steam and sauna.
The Tulia Spa has been recognized as the best Luxury Ayurveda Spa in Africa at the World Luxury Spa Awards 2018. Apart from Ayurvedic treatments, the Spa menu includes treatments such as foot reflexology, body scrubs with Kahawa made from finely ground Kenyan coffee and the signature Tulia Massage.