Mumbai: He and the business he founded is most famous for organising some of the big fat Indian weddings in exotic destinations around the world. He is one of the pioneers of the professional wedding planning industry in India. But that is just 30 per cent of what his company does.
A true blood Mumbaikar, Mahesh, through his 'PIE style', has led Tamarind Global into a leading travel brand having a turnover of Rs. 400 crore
I first met Mahesh Shirodkar, Managing Director, Tamarind Global at the Emirates Cricket Tournament in Mumbai where he was one of the special guests. I certainly knew Tamarind Global does a lot more than weddings having witnessed their association with Global Panorama Showcase (GPS), the largest Tier II & III cities tourism market place in India, as their contracting partner.
Naina and I finally sat down at Mahesh's tastefully done up office in Mumbai for his story. I started by asking him about the Amazon Prime series 'Made in Heaven' which revolves around wedding planners. "We certainly have received challenging demands from customers and in this industry lot of requests are last minute and some things will go wrong," concurred Mahesh.
"What is the most outrageous demand you have made possible for a wedding client," Naina wanted to know. "I have never got ghost brides married off or helped get a bride married to a tree," Mahesh burst out laughing alluding to the web series. "But the pitching is fierce and last minute glitches do happen like in any service industry and what differentiates the men from the boys or women from the girls is how you salvage the situation by thinking on your feet fast, not losing one's cool and managing expectations and the relationships."
Having lost his businessman father Vithal Shirodkar at 18, Mahesh started from ground zero and is completely self-made. His mother Leela Shirodkar who was a teacher and his twin sisters Ameeta and Savita, elder to him by a year, were with him coping from the tragic loss.
Mahesh learned valuable lessons in business from his father. The importance of staying focused, performing smart hard work, value of building relationships and giving it one's 100 per cent. "He taught me to sell the sizzle and not the stake." Lee Iacocca (legendary CEO of Chrysler), Bill Gates and Nandan Nilekani have been Mahesh's idols in business.
"I joined Cox & Kings as an airport representative at 19, then grew to become a tour escort and finally a management trainee. My five years there helped me understand the travel industry and also learn the importance of hard work, self respect and that success has no shortcuts."
Mahesh then moved to Dubai and dabbled in outbound travel for few years. The city and its entrepreneurial culture offered him a new perspective. It was time to turn from employee to employer. He returned to India and incorporated Tour Club in 1989 with a measly paid up capital of Rs. 5000. "It was just me and my peon. The heartening part is he is still with me after 30 years!"
The initial five years were an uphill struggle but post those challenging times, Tour Club grew from strength to strength. Mahesh sold the brand and business to global travel major Kuoni in 2001. Kuoni had entered India and already consummated two acquisitions – SOTC and Sita. Tour Club was the third.  Everything should have been on a roll but whatever could go wrong with the world happened in 2001-2002. "9/11, Parliament attack, Gujarat earthquake, SARS – major events that had disastrous consequences for travel and tourism as a business – all happened during my earn out time," remembered Mahesh. Tour Club was the only business unit within Kuoni at the time which delivered its numbers in those difficult three years. Post his contractual obligation and integration of Tour Club within the Kuoni fold, Mahesh was inducted into the executive board of Kuoni and was heading their flagship outbound division. He then decided to take a sabbatical from work. However, the service industry bug bit him again and in 2006 Tamarind was incorporated as an inbound tours company.
A true blood Mumbaikar, Mahesh studied at St. Mary's School Byculla and went to Sydenham College for graduation in commerce. He wanted to do his master's in the US, but fate struck in the form of his father's untimely demise.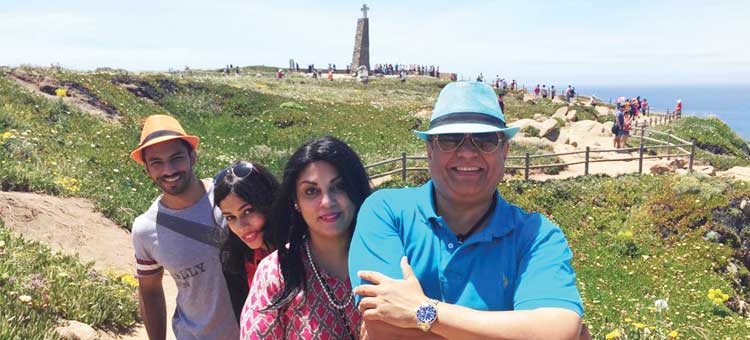 The business started as Tamarind Tours, an inbound hospitality focused DMC and got rebranded as Tamarind Global in 2009 when new business lines got added, like weddings& events in 2008 and corporate services in 2011. Even overseas offices were opened to support the expanding business. "Today we are into both outbound and inbound. We have four distinct verticals and offices in 14 cities in India and overseas presence in UAE, KSA, Canada and Russia."
More than 50 per cent of top line continues to be from the B2B tours business with weddings and events contributing 30 per cent and the rest being corporate services. The entry into the B2C weddings business was purely by accident. "A friend of mine asked me to manage his daughter's wedding and so it began through word of mouth references. Weddings, though a reasonably high margin B2C business, is not scalable as it is highly curated, personalised and time consuming, and the wedding dates are crunched during a maximum window of 3-4 months (October-March). We do about 15 weddings in a year of which 70 per cent are overseas."
Weddings is a highly fragmented industry and there are only a handful of professionally run wedding planners in India with full time trained staff and Tamarind Global is one of them with a large in-house team covering hospitality, production, creative and logistics. They are credited with opening up many exotic destinations to the jamboree that Indian weddings are. Kota Kina Balu in Malaysia, Bahrain, Oman, Qatar, Abu Dhabi, Maldives, Sri Lanka, Jordan, you name it.
Tamarind Global is a steady ship today clocking over Rs. 400 crore in turnover. The divisions are run by trusted lieutenants, director Louis D'Souza (inbound & domestic tours), executive director Chetan Juneja (corporate services) and Kunal Rai (head of weddings & events). All three of them have been with Mahesh for decades. "I sleep peacefully as nothing at work keeps me awake other than rare instances of fire fighting."
Naina wanted to know what is Mahesh's leadership style. "It's called the PIE style," said Mahesh. "Personal, Informal and Empowering."
Mahesh's daughter Alisha joined the business four years ago and heads marketing for the group. She is also involved in select weddings & events and business development. After graduating from NYU Stern Business School in marketing and finance, Alisha was with Hindustan Unilever for three years. Post marriage to entrepreneur Shrey Agarwal, the duo started The Belgian Waffle Company, a quick service chain with 250 plus outlets. Son Siddhant majored in music at Northwestern University's Chicago campus. He is a vocalist, composer, guitarist and keyboardist, and part of two bands – the 'synth music' Ape Echoes, and Paraphoniks. Spouse Anita used to be in advertising for 20 years with some of the big names like Trikaya, Lintas and Mudra. A few years ago, she turned author and has published five titles till now including three from her mythological trilogy 'Guardians of the Blue Lotus' (Aryavir, Sitanshu and Ambuj).
Naina's trademark question followed, "do you have pets?" The family had a Labrador named Muffin who is no more (oh my God! Naina's canine is also named Muffin!). Mahesh believes that 'if you haven't loved a pet, you haven't lived.' I had to intervene to ensure this feature was not going to be only about pets.
Listening to music and Netflix are favorite stress busters for Mahesh who wants to learn the saxophone some day. He is a die hard audiophile and movie buff. Staying fit is another passion. He trekked to Mt. Everest base camp four years ago and calls it a remarkable learning experience.
He travels for about 15 days in a month and follows no specific routine. A regular day starts at 630 am with a glass of warm lemon water mixed with honey and a light tea. He performs yoga or hits the gym at least four times a week in the morning. Reading the print edition of The Times of India and The Economic Times has become a habit. "I am in the office on an average for around 4-6 hours as the rest is spent in external meetings or travel."
Since the children have grown up, family holidays are challenging. "But we catch up once a fortnight for a family meal. Anita also travels, so I spend quality time with her whenever possible and our annual holiday with close friends is non-negotiable."
I interjected with a question, "which is your favourite holiday destination?" Mahesh, in fact, has two. "Italy, especially Tuscany, for the picture postcard terrain, the people and their love for food and wine. South East Asia, in particular, Thailand, for the sheer hospitality, value for money and amazing food."
Attending various art exhibitions and biennales over the years, Mahesh developed a deep interest in modern contemporary art. "I started with figurative art and then progressed to abstract," he said. Artists such as Raza, Ramkumar, Atul and Anju Dodiya, Zarine Hashmi, Jitesh Kallat, Sunil Padwal, Prabhakar Kolte, Gargi Raina, G R Iranna, Rajnish Kaur, Amit Ambalal, Laxma Goud and various others have made it into his growing collection. Anita's background in advertising art direction makes her the perfect partner in this expensive hobby! Saffron Art is an auction house of repute which the couple has patronized over many years.
We delayed Mahesh for his next meeting by 30 minutes and Naina shot the last question. "Where do you see Tamarind Global in the next five years? Is there a succession plan?"
For Mahesh running on 60, the business has to find the successor(s) from within. Someone who can reinforce values he has lived by like integrity, respect and responsibility. "I want Tamarind Global to be regarded always as a reputed legacy brand for creating unforgettable experiences in the space of inbound, weddings & luxury events, and ultimately also evolve into a strong player in the e-commerce space," he signed off.