Hong Kong: Having visited Singapore, the other 'World City of Asia', Hong Kong (HK) was always on my bucket list. As I was planning for my maiden journey to HK, the protests against the now defunct extradition bill was sweeping through the city. But something told me, it was going to be safe.
Even though the overnight air travel from Mumbai was tiring, when I landed at Hong Kong International Airport, the vibe of the financial megapolis, revved me up with unbeatable energy.
Once is not enough to completely capture the refreshing experience Ocean Park is. So plan to go back as you come away. The numerous attractions await you, now and then
We drove from the airport, located on Chep Lap Kok island to Hong Kong Ocean Park Marriott Hotel located at Aberdeen on Hong Kong Island. Hong Kong consists of four main areas, Hong Kong Island, Kowloon, the New Territories and The Outlying Islands. The Outlying Islands are made up of 234 islands in close proximity, excluding Hong Kong Island where the capital city 'Hong Kong' is located.
Through the one-hour journey to the hotel, I noticed that Hong Kong has spectacular infrastructure thanks to their skyscraper studded skyline. In fact, the city has the largest number of skyscrapers in the world, most surrounding the Victoria Harbor which is located on the South China Sea and is a major tourist attraction having numerous ferry and cruise options yet continues to function as a port for thousands of international vessels each year.
The city truly has the best of both worlds, as there is no shortage of nature – 129 hills in and around Hong Kong and surrounded by the South China Sea.
Hong Kong is one of the most densely populated places in the world with 7.4 million people of various nationalities. Their regional language is Cantonese and unlike other parts of East Asia, English is very commonly spoken here. Being one of the most significant global financial centers of the world, HK classifies as a power city, also called alpha city, indicating its influence around the world. As we drove through the city center at Kowloon known as Tsim Sha Tsui, I saw a number of luxury hotels and boutiques. Ferraris, McLarens and Teslas are aplenty!
My trip to Hong Kong city provided me with the opportunity to spend two days at Ocean Park, Hong Kong. A safe-place created for all ages, for the shy and the brave, the hungry and the enthusiast.
The park opened way back in 1977 as a non-profit organisation and today has gained recognition for its animal preservation and research. Part of the proceeds from admission tickets and retail items go to Ocean Park Conservation Foundation, Hong Kong, to support its wildlife conservation projects. Over 140 million thrill seekers have visited since the park's inception and 7.8 million in 2018 alone.
During my time there, I had a chance to witness the inauguration of Ocean Park's Summer Water Battle presented by SKECHERS. Every year, Ocean Park hosts major seasonal events like Halloween Fest, Christmas Sensation and so on. The Summer Water Battle officially kicked off on July 13 and will run till September 1, 2019 in collaboration with the popular Japanese Anime, One Piece. This includes seven One-Piece themed water attractions. The park has spared no effort in recreating the water battle scenes, One Piece-themed F&B options, meet and greet with One Piece characters, and exclusive collectables at their souvenir shops and game booths.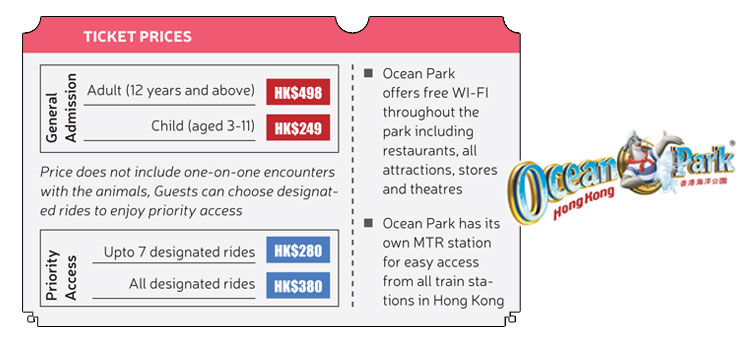 "This year's Ocean Park Summer Water Battle invites guests to join the largest ever One Piece-themed event in Hong Kong. With several creatively designed water attractions and classic scenes from One Piece to welcome the 'Great Pirate Era', we'd like to celebrate the power of friendship and our guests' dreams," said Matthias Li, Chief Executive, Ocean Park.
One of the most remarkable experiences at Ocean Park is the rare opportunity to witness up-close multiple species of animals. I saw the Red Panda and the Giant Panda. I also had the chance to observe Owls, Vultures, Otters, Turtles, Sichuan Monkeys, Walruses, Seals, Koala Bears, Laughing Kookaburras and Red-necked Wallabies and Albino Wallabies. As a die-hard animal lover, I am not a supporter of enclosed zoological gardens which restrict animal freedom for entertainment, but the animals here are treated with great respect and care and the park goes to great lengths to ensure the animals live and feel like they are in their natural habitats. These animal ambassadors are given preference over the human guests and that in itself speaks volumes for the park's ethos and values! It was heartwarming to see the relationships between these animals and the park trainers.
The highlight for me was the encounter with Penguins. I learned how to curate jellies and frozen fish into small meal size bites and feed them. (HK$380). Ocean Park has 107 penguins of three breeds – King Penguin, Gentoo Penguin and Southern Rockhopper. You can also choose to meet Sea Lion, Dolphin, Arctic Fox, Capybara and Tamarin.
The Grand Aquarium has a 5.5 m aquarium dome and 13 m wide acrylic viewing panel where you can get close to a collection of over 5000 fish from more than 400 species.
"Ocean Park has witnessed a steady and continuous growth of Indian guests. The number of FITs experienced a 68 per cent jump in the past three years as a result of our active overseas promotions. India is now one of our key markets and we believe the Park's niche lies in our holistic edutainment theme park resort experience that is thrilling, fun and educational, not so commonly found in India. With over 80 attractions as well as a host of seasonal events like the famous Halloween Fest, the Park appeals to both local and overseas guests of different age groups," said Rosalind Siu, Executive Director, Sales, Marketing & Public Affairs, Ocean Park Hong Kong.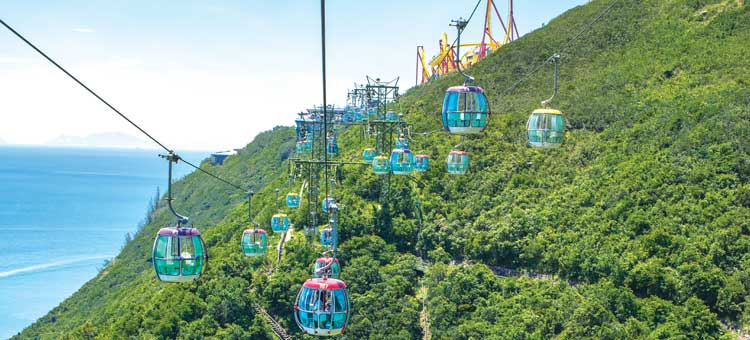 Spread over 9,15,000 sq.m. of land, Ocean Park consists of two designated areas, The Summit and The Waterfront, separated by a large mountain. There are two ways to access The Summit which houses the Thrill Mountain, one being a 1.5 km long cable car system having 251 cars, which is 205 m above South China Sea, or take the Ocean Express train that is built to transport 5000 people per hour back and forth. There are over 80 attractions, four roller coasters and two water rides to choose from.
"Ocean Park has been one of the most successful attractions in Hong Kong, sought-after by an ever-growing number of Indian families and millennials," said Priyanka Nijhawan, Director, Nijhawan Group which represents Ocean Park in India. "It has also become a leading destination for MICE from tier I & II cities of India thanks to their world-class infrastructure. With the continued support from the Indian media, travel trade and key strategic partners, we aim to make Ocean Park the top selling attraction of Hong Kong in India."
Chasing an adrenaline rush, we sat on one of Hong Kong's fastest roller coasters – The Hair Raiser with a top speed of 88 kmph followed by The Flash – that swings you 22 m into the air and spins you at a full 360 degrees around at a speed of 60 kmph. Sounds exhilarating, doesn't it?
This season, in addition to the water attractions, Ocean Park Hong Kong has added brand new VR (virtual reality) technology to fuel their guest experience. Along with launching Hong Kong's first ever VR roller coaster 'The Mine Train', which takes passengers on a mind blowing virtual reality 'mining' journey, Ocean Park has also launched Hong Kong's first VR free fall ride known as The Abyss – VR Space Voyage. Here you plunge down from a height of 20 stories at a great speed wearing the VR headset that makes you feel like you have just been launched into outer space! The feeling left us with goosebumps!
Ocean Park has the facilities to host wedding ceremonies, birthday parties and graduations. They also have corporate one-day packages, evening parties, and corporate training schemes which include team building activities and adventure programs. This makes it a great MICE destination too.
---
For the foodie
The Park has nine major restaurants and free entry after 6.30 pm so that outside guests can also experience their F&B wonders.
Recommendation
Do not miss having a meal at their all-new gourmet open fire charcoal grill Thai restaurant called Ginger Grill. As the name suggests, most of their signature dishes and cocktails include the key ingredient – Ginger. This restaurant has a relaxing ambience and includes free parking up to four hours.
---
Our Suggestion
Ocean Park does not provide the option to purchase a two-day discounted pass. But, it is impossible to complete all rides and attractions in a single day as most rides have long waiting lines especially in the summer peak season. A two-day pass will allow a family or group to explore all attractions without having to give up one for the other and at an attractive price.