Doha: The 'Blockade' of Qatar in mid-2017 seems to have emboldened the Arab state rather than intimidated it. With wise policy decisions and focussed implementation, the tiny Gulf nation has prospered as a business hub. Qatar's easy connectivity to various destinations globally, hosting of the 2022 FIFA World Cup and being perceived as "a culturally and historically strong" destination makes the country attractive for the Indian traveller. Qatar is the most 'open' country in the region and promises a unique destination where authentic culture meets modernity; where people of the world come together to experience unique offerings in sports, culture, business and family entertainment.
Qatar, the most 'open' Arab state in the region, is transforming itself as the world's first choice for doing business by investing heavily into tourism infrastructure, including the construction of luxury hotels, resorts, stadiums and meeting facilities
With Qatar being listed in Forbes' top 15 places to visit in 2019 and NYT list of 2019 destinations, there has never been a better time to visit Qatar. The country has the highest per capita income in the world. Qatar is classified by the UN as a country widely regarded as the most advanced Arab state for human development and is a high-income economy, backed by the world's third-largest natural gas and oil reserves. Qatar welcomed 1.6 million visitors during the first 10 months of 2019, representing a 13 per cent increase, compared to the same period in 2018 and over 4,00,000 Indian visitors in 2018, representing a 25 per cent increase on the same period in 2017. Doha is expected to see the highest growth in the world in tourist arrivals. The visitor arrivals in Doha are projected to grow by 104 percent by 2025, making it the fastest-growing tourist destination among the major cities worldwide.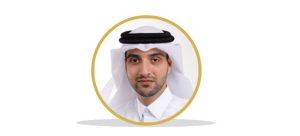 "We have won the rights to host major business events including The World Symposium on Choral Music, Financial Management Association (FMA) Middle East Conference, SESTECH Sports Conference and Expo, and ISOCARP World Planning Congress, among others"
AHMED AL OBAIDLI, Director of Business Events, QNTC
Qatar's National Vision 2030 considers tourism as an important pillar for economic diversification. The tourism sector will contribute QR133.5 billion towards Qatar's GDP and create more than 2,84,000 jobs by 2028. In 2018, the decision of establishing the Qatar National Tourism Council (QNTC) under the chairmanship of Prime Minister and Minister of Interior Sheikh Abdullah bin Nasser bin Khalifa Al Thani, launched the beginning of a new phase in the development of tourism in Qatar. QNTC representative offices have opened in major markets like the United States, Britain, France, Italy, Turkey, Russia, China, Southeast Asia and India. QNTC opened its 11th representation office globally, located in Mumbai in May 2018. According to United Nations World Tourism Organisation (UNWTO), India will account for 50 million outbound tourists by 2020, making it an attractive source market for any serious destination.
The inaugural edition of 'Qatar Travel Mart 2020' will be held in November next year and help strengthen QNTC's Strategy 2030, which works to develop greater diversification of visitor source markets and tourism products and services.
The national carrier – Qatar Airways, has direct flights connecting Doha to 13 key cities across India with over 102 direct flights every week. In a bid to further facilitate visitors' access to the country, all Indian nationals can enter Qatar visa-free, with an allowable length of stay of 30 days
Doha has already become a regional & international hub for conferences and exhibitions, where 12-15 per cent of the visitors to Qatar are travelling for business, attending conferences, a meeting or an exhibition. Qatar is steaming ahead with its efforts to transform itself into a thriving and competitive economic-powerhouse and is ensuring that it is the world's first choice for doing business. Between 2014-2019, Qatar won the rights to host 24 business events, bringing in over 10,000 visitors. In 2019 alone, Qatar will have hosted over 150 business events.
Qatar's main conference and exhibition venues are the Qatar National Convention Centre (QNCC) and the Doha Exhibition and Conference Center (DECC), both of which offer great flexibility to tailor the venue to their needs.
The DECC is Qatar's icon and illuminates Doha's skyline. Designed by the world-renowned architect Helmut Jahn, it is one of the largest single exhibit spaces in the world, with 47,700 sq.m. site footprint, 29,035 sq.m. pillar-free exhibition space and 2800 car parking slots. The DECC is a 20-minute drive from the airport and has more than 15 hotels (5400 rooms) within walking distance.
The QNCC is situated on Qatar Foundation's 2500-acre campus. It features a conference hall of 4000 seats theatre style, a 2300-seat theatre, three auditoriums and 52 flexible meetings rooms. It houses 40,000 sq.m. of exhibition space over nine halls, and is adaptable to seat 10,000 for a conference or banquet and accommodates over 3200 vehicles spread across three stories of parking space with a metro station on site.
The Indian wedding segment is an important one for Qatar and the country has hosted six Indian weddings since 2018. Qatar is investing heavily into tourism infrastructure, including the construction of luxury hotels, resorts, stadiums and meeting facilities. Qatar's recent significant cultural and retail investments and developments, include the construction of the National Museum of Qatar and Msheireb Downtown Doha, along with major infrastructure developments, which includes the recently opened Doha Metro – Qatar's first-ever underground railway system, a $36 billion project designed to alleviate traffic problems and accommodate future growth in time for the 2022 FIFA World Cup.
Qatar has a current total of over 26,778 rooms across 128 properties. Several properties are in various stages of completion, with new luxury hotels including the Mandarin Oriental, the 21-storey 5-star Park Hyatt Hotel, both in Msheireb Downtown, the 47-storey Pullman Doha in West Bay, Al-Najdah and Souq Al-Wakrah hotels from Tivoli Hotels & Resorts and Zulal Resort.
The country's gateway to the world is the state-of-the-art Hamad International Airport (HIA). With 138 check-in counters, the airport has the capacity to serve 50 million passengers a year. Qatar is a crime-free, tax-free nation and to experience Qatar is to experience true quality of life.
Wadaeaan Qatar! Until next time.
---
Things To Do in Doha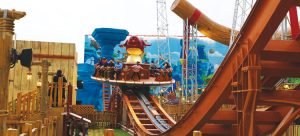 ANGRY BIRDS WORLD™
The world's first ANGRY BIRDS WORLD™ entertainment park opened in Doha Festival City earlier this year. This unique indoor and outdoor destination is home to the world-famous Angry Birds flock, a 17,000 sq. m. nest which brings a riot of fun for the whole family. One of the much-sought after attractions is the Super Slingshot. Themed around the classic bird-flinging gameplay, the 42 m high slingshot catapults guests more than 60 m into the air, offering a truly heart-pounding experience.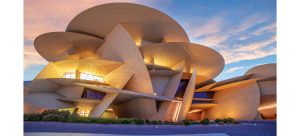 NATIONAL MUSEUM OF QATAR
Opened in 2019, TIME Magazine named it one of the World's Greatest Places to Visit in 2019. The museum's mission is to celebrate the culture, heritage, and future of Qatar and its people, embodying the pride and traditions of Qataris while offering international visitors a dialogue about rapid change and modernisation.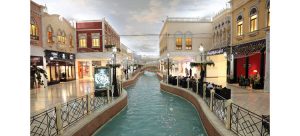 VILLAGGIO MALL
With more than 200 international brands, this mall's interiors are Italian-themed both as an Italian hill town, but also with a 150 m-long indoor canal with gondolas. This mall also contains the Gondolania Theme Park, an indoor theme park that includes the Gondolania Ice Hockey Rink.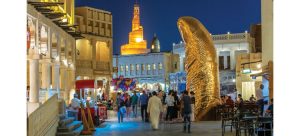 SOUQ WAQIF
Here one can find traditional garments, spices, handicrafts, and souvenirs. Home to dozens of restaurants and Shisha lounges, this souq dates back to a hundred years. It is often perceived to be the only lasting area in Doha that retains an authentic feel notably in reference to its commerce, architecture and culture. The area is very popular with locals and expats.
EDUCATION CITY OF QATAR
Considered to be Qatar Foundation's most important project, it covers 14 sq.m. and houses educational facilities from school age to research level and branch campuses of some of the world's major universities. Other activities consist of Mathaf, The Arab Museum of Modern Art, QNCC, Education City Mosque and Education City Golf Club.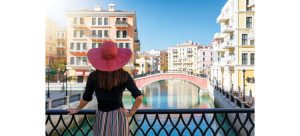 THE PEARL-QATAR
An artificial island, the first in Qatar to be available for house ownership to foreign nationals. The island is built on one of Qatar's previous pearl diving sites, hence its name. The Pearl Gateway Towers is commercial space for offices. The beach villas are residential along with many complexes. Floresta Gardens is a small community planned in the shape of the Colosseum in Rome. Medina Centrale is primarily a retail district, showcasing up to 6,00,000 sq.ft. of retail space. Porto Arabia accommodates the primary harbour and a 2.5 km seafront promenade named La Croisette. Qanat Quartier is modelled after the Italian city of Venice; its buildings incorporate Venetian architecture, musical 'piano' stairs and several canals that run through the city.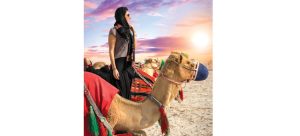 INLAND SEA – DESERT SAFARI
An exhilarating desert dune bashing adventure with pick up and drop from anywhere within Doha city. This 4-hour getaway takes you to the breathtaking inland sea known as Khor Al Adaid. Here one can encounter three borders at the same time i.e, UAE, Saudi Arabia & Qatar. This UNESCO® recognized natural reserve with its own ecosystem is one of the few places in the world where the sea encroaches deep into the heart of the desert.
---
Top Hotels
THE RITZ CARLTON DOHA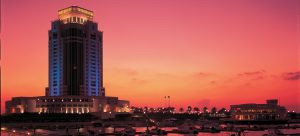 The hotel features panoramic views of the Arabian Gulf and the impressive West Bay Lagoon and Lusail islands development. The resort has six dining options and 374 guest rooms including 61 suites and 42 Club Level rooms. Guest rooms are the epitome of luxury with down comforters and Egyptian cotton bed linen, marble baths and plush terry robes, 24-hour in-room dining and twice daily housekeeping. 3650 sq.m. of meeting & exhibition space, two ballrooms, six individual meeting rooms and extensive outdoor function areas.
THE TORCH DOHA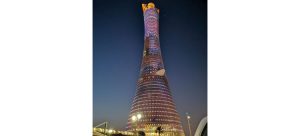 Spread across 51 floors, each of the 163 luxury rooms are equipped with iPad- based in-room solution offering customised control of lights & curtains operation, in-room dining, temperature, etc. It has two 40 sq.m. boardrooms for small meetings, 120 sq.m. facility for medium-size events and a 446 sq.m. space for 300 guests. The Torch Ballroom caters a maximum of 500 guests. This is the tallest structure in Qatar.
THE WESTIN DOHA HOTEL AND SPA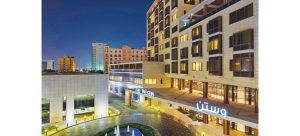 With 364 rooms, a 2200 sq.m. ballroom, 14 meeting rooms and a 2500 sq.m. terrace space, this is an ideal location for any event, be it business or weddings. Seven restaurants offer seating space up to 809 pax in total. It is just a 20-minute drive from Hamad International Airport and offers direct access to the commercial district of West Bay and popular leisure destinations such as Souq Waqif and Doha Corniche.
RADISSON BLU HOTEL DOHA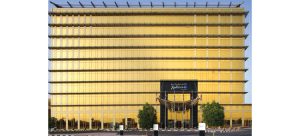 The hotel comes with 583 sophisticated rooms and a choice of nine on-site restaurants and four all-day dining cafés and bistros. One can choose from an array of international and local dishes, from sushi to curry or go for after-dinner drinks or a casual business meeting in one of its seven bars, including an upscale, stylish library bar and Doha's largest entertainment nightclub, Qube. It has two large gyms; two pools; squash and tennis courts; an outdoor Jacuzzi; massage facilities; volleyball, basketball and badminton courts and more. The hotel offers diverse options for meetings with conference rooms suitable for 20 to 600 pax.
ST. REGIS DOHA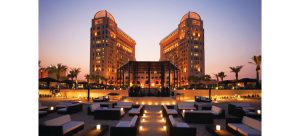 Located at the heart of the rising city, adjacent to the Pearl-Qatar, Katara Cultural Village and West Bay business district, the hotel encompasses 336 elegant guest rooms with sea view, including a wide range of suites. It also features 12 dining venues and modern meeting spaces besides a variety of recreation facilities, an Olympic-sized pool and the legendary 5-star Remède Spa.
STADIUMS IN QATAR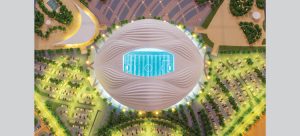 Qatar has over 16 functional multi-purpose stadiums, used primarily by football associations. Six new stadiums are scheduled to open before 2021 focusing on FIFA World Cup 2022. The opening and the final matches will be played at Lusail Stadium. Other stadiums are – Al Bayt Stadium, Al Wakrah Stadium, Al Rayyan Stadium, Khalifa International Stadium and Qatar Foundation Stadium. FIFA requires a minimum of eight playing venues to award the hosting privilege
---
Things To Know
SIM CARD
Ooredoo is the largest telecom service provider in Qatar. The company is State-owned and offers several roaming deals for traveling across the Middle East.Network coverage is the best and internet speeds are the fastest. You can buy a SIM card at the airport or any convenience store
UBER
Uber is one of the most commonly used taxi services in Qatar. You can also use Karwa taxi and Qatar Limousine and Taxi services
DRESS CODE
Qatar is an Islamic country, and people dress in a very traditional manner. Although there is no dress code for foreigners, it is better to wear conservative clothing. However this rule does not apply to 5-star hotels
TRAVEL DURING
RAMADAN
A trip to Qatar in Ramadan would be unique as expats and tourists, though not expected to fast, must adhere to the rules. Eating, drinking or smoking in public during daylight hours is prohibited. All restaurants are shut during the day
ALCOHOL
Alcohol is available at licensed hotel restaurants and bars, and expatriates living in Qatar can obtain alcohol on a permit system. Though illegal in the country, nightclubs and lounges in 5-star hotels serve alcohol to all customers
---
Must try Indian restaurants
The Village
Three distinctively different restaurants all under one roof. Inspired by the nature's three major components – freshness of green farmlands, tranquility of clear blue oceans of Mediterranean and sparkles of the fires of the orient. Here you can sample Turkish, Iranian or Indian food.
Saffron Lounge at Katara
Qatar's very own food and beverage specialists United Business Development launched their very first Indian restaurant in Qatar in 2009. Here one can experience the diverse cuisine and culture of India with its exotic flavours. Located on the waterfront of the iconic Katara Cultural Village, this one is a must-visit.