Jaipur: In the past, people were born into royalty. Nowadays, royalty is how you feel and no matter who you are and where you are from, we all want to feel a touch of royalty.
Jaipur, the magnificent capital of Rajasthan, also known as the 'Pink City', is a hub for tourists and visitors from all over the world, looking to explore and discover the rich history, glorious legacy and multifaceted culture of the Rajputana. The city was painted in hues of pink in 1876 to welcome the Prince of Wales.
Basking in the iconic culture and heritage of royal Rajasthan, taking every guest on an elegant journey back in time when chivalry and subtle luxuries were part of daily life
A 20-minute drive from the hustle and bustle of the Pink City, lies an oasis of royalty and luxury – the flagship property of Fairmont Hotels & Resorts, India's one and only. Nestled peacefully in the majestic Aravalli hills, Fairmont Jaipur is inspired by the Mughal dynasty and the Royal Rajput imperials.
It is spread over 3.5 acres with 245 rooms including seven suites, a perfect blend of traditional Rajasthani décor and top of the art modern amenities, making each visitor feel like an honoured guest of the Mughal era. The property stands tall basking in the iconic culture and heritage of royal Rajasthan, taking every guest on an elegant journey back in time when chivalry and subtle luxuries were part of daily life.
Beginning with the 'five senses' welcome, with the sound of gongs and showers of petals as you enter the palace's enormous wooden doors, you are greeted with traditional Rajasthani instrumental songs while you step into their 'chaarbaug'. Fairmont offers several unforgettable Instagram opportunities for its guests.
Guest rooms at Fairmont Jaipur exude classic heritage influences with four poster beds, camel bone inlaid furniture and amazing walk-in bathrooms with their very own 'hammam' style tub that has been hand-carved out of a single block of stone! The beauty of the rooms however lies in the intimate details.
---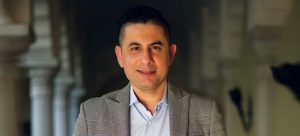 "85 per cent of our clientele are Indians, 50 per cent are from the MICE segment as we have world-class convention facilities and rest are FITs. Recently, we hosted the Raymond MTV India Music Summit 2019 with 1500-2000 guests, 100 artists and non-stop music for 72 hours"
RAJIV KAPOOR, General Manager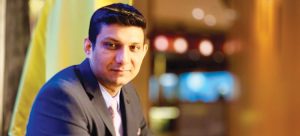 "In order to strengthen our F&B offering, Fairmont Jaipur aims to stay true to its roots by providing flavors and services which are authentically local, while striving for excellence combined with conviviality"
AMIT SANGWAN, Director, Food & Beverage
---
Private, exclusive and always at your service – the Fairmont Gold floor is an elevation of luxury in the hotel, a service extended only to a select few. The brand's exclusive 'hotel within a hotel' features access to the Fairmont Gold Lounge with personalised service and luxuries such as an intimate lounge area that serves afternoon tea, evening canapés and a wide choice of beverages. The lounge service also extends to the very private terrace where one can indulge in light snacks over intimate conversations set against the magnificent vistas of the Aravalli hills.
Another not to be missed experience at Fairmont Jaipur is a luxury spa treatment at Ruhab. Ruhab means 'the one who brings happiness' and truly does justice to its name. Their signature Zodiac Sign-based therapies tailored in accordance to their guest's star sign as the therapist works on catering to one's individual chakras, helps in experiencing truly blissful healing of the body and the soul. The spa is beautifully built with plunge Jacuzzi pools, separate steam sauna and shower areas for men and women, couple massage rooms and the works!
Guests can also spend time relaxing by their 'chausar' shaped swimming pool, playing a game of croquet, table tennis, volleyball or badminton.
Tingar, the kids' club is a space dedicated to the entertainment and care of the young ones while the parents can enjoy their time at the property without any distractions.
Fairmont Jaipur with its exclusive 60,000 sq. ft. convention grounds is the ideal place for destination weddings and business events. The Grand Ballroom along with seven additional meeting rooms equipped with audiovisual facilities like web-casting, internet connectivity and video conferencing make it a powerful game changer for MICE events.
The dining experience at Fairmont Jaipur
Zoya – All-day dining restaurant, Zoya, offers authentic Rajasthani cuisine highlighting heritage dishes from the royal household. They also have a continental and Thai menu. This is where guests have their morning buffet breakfast. The restaurant has five distinct dining areas ranging from the luxury tent with hues of blue and silver in the main dining area to the lily pond dining space which is an outdoor setting highlighted by the romance of dining under the stars
Zarin – Breathes life into century-old culinary art, with rich interiors and Persian style seating celebrating the 'Royal Cuisines of India'. Recommendation – The Rajasthani Thali
Aza – A sombre library lounge where guests can sample an impressive selection of wines & malt whisky with old-world oak display cabinets and bespoke cocktails
Anjum – Vivacious tea lounge facing the scenic valleys of the Aravallis. This informal lounge plays host to connoisseurs of beverages, hot and cold, and is a hub of activity in the hotel. Do not miss the Hi-tea session in the evenings and the cocktail mixes by mixologist Rupesh
Cigar Diwan – A classic smoking room, the perfect after-dinner space. Home to some of the best Cubans in India, the Cigar Diwan with its heady aroma of refined tobacco mixes is a delight for those who appreciate the fine things in life
Things to do around Fairmont Jaipur
Visit Amber and Jaigarh forts
Shopping at Bapu market and Johri Bazaar
Hot air ballooning and mountaineering at the Aravalli hills
Safari at Jhalana Leopard Conservation Reserve
Visit Hawa Mahal – The palace of winds