Kampala: For a moment, I thought I just walked straight into a panoramic frame of National Geographic Channel's wildlife programme. The vast expanse of savannah landscape was just coming to life, swathed in the golden hue of the rising sun. As if to give it a surreal touch, a thin veil of fog hung in the air. I saw some scattered burnt patches of dry bush suggestive of a recent wildfire. Except for some trees here and there, the rest of the topography resembled a very vast playground stretching well beyond one's reach of vision, of course, an abandoned one, in an aerial view from a distance. With the horizon painted in a mix of red and orange, presenting a silhouetted imagery, I could see the wilderness of Africa waking up to yet another day.
The Big Five, the Gorillas, the Chimps, source of the Nile, the snow-clad peaks of Rwenzori, the savannah, the rich wildlife and the idyllic landscape make this land-locked nation in Africa a medley of wonders
I was having a hot Ugandan coffee on the balcony of Kyangabi Crater Resort, overlooking the Queen Elizabeth National Park (QENP) in South Western Africa, waiting for my FAM-mates for an early morning game drive. It was my first visit to Uganda, the 'Pearl of Africa'. I was the only journalist in the seven-member Indian team, being hosted by Uganda Tourism Board (UTB) as part of Pearl of Africa Tourism Expo (POATE 2020). It was the fourth day of our Pre-FAM programme, covering the major tourist destinations in the Western and South Western regions of Uganda. From Kampala, we came to Lake Mburo National Park followed by QENP and then to Kibale National Park and Fort Portal town before heading to Speke Resort Munyonyo in Kampala for POATE 2020. There were two other pre-FAM programmes – one covering Murchison Falls National Park and Bwindi Impenetrable National Park (known for Mountain Gorillas) and the other one at Jinja, the source of River Nile, mainly featuring adventure activities.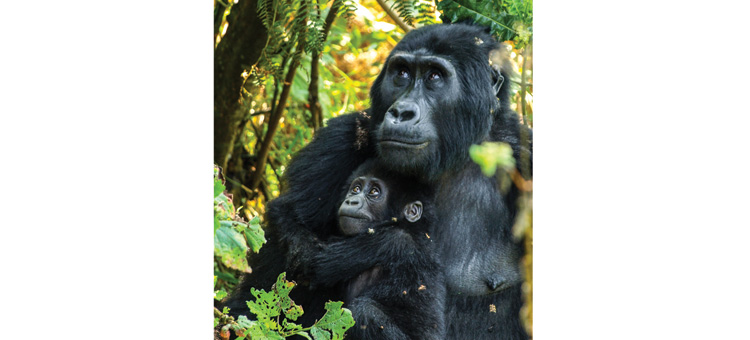 The other members accompanying us in our vehicle were leading travel agents from India – Jayesh Ashar of Pearl Tourism and Leisure Group, Pune; Rishabh Shah of Touristers Tour Designers, Mumbai; Kabir Nayar of Vilaasita, New Delhi; Kamaya Sangodkar of The Pravasi, Mumbai and Nancy Abdelhadi, Managing Partner of the Cairo-based International Business & Investment Services (IBIS).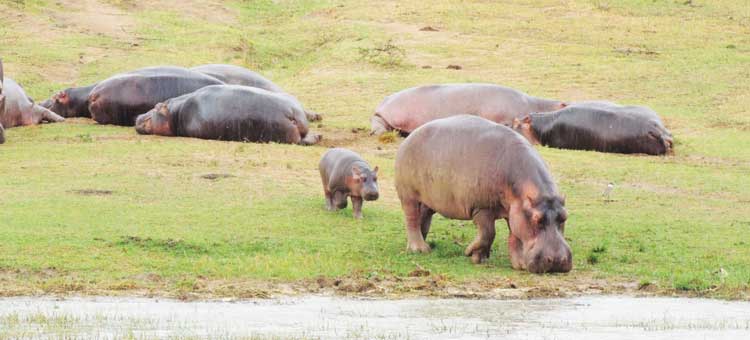 We did a mini-game drive the previous evening at QENP. The setting sun cast a golden hue on the savannah. We saw dozens of Ugandan Kobs, a type of antelope that looks almost like the Impalas but more sinewy in built. We were also able to spot Hyenas, Warthogs, African buffaloes and Waterbucks. Along the Janet track, we spotted a pride of lions at a distance. It was so far away from us that they could only be seen properly with a binocular. I watched them for a few minutes with the help of my digital camera. QENP closes game drive at 7 pm and we returned to the lodge, expecting to see more animals during the mega game drive slated for early morning the next day.
Our guide Kule and driver Rogers were ready. We got inside the 4×4 Land Cruiser, an altered version equipped for wildlife safaris. At QENP, we were welcomed by a herd of African buffaloes and large herds of Ugandan Kobs. But having seen them in large numbers the other day, we were hardly excited. It had been more than an hour since our bumpy ride began. And each of us was getting impatient and disappointed for not being able to see lions, leopards or elephants.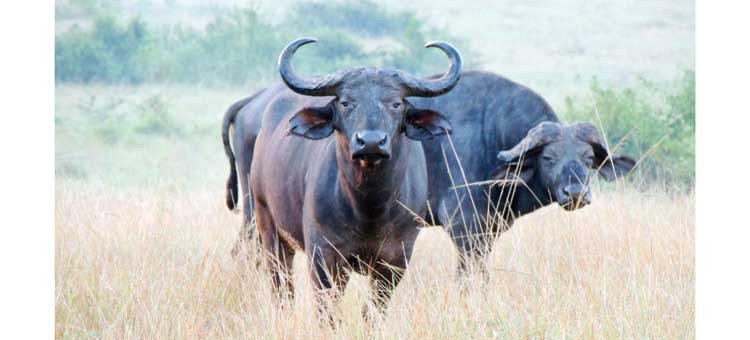 A veteran travel industry professional, Jayesh is a specialist in Africa tours and a fan of Maasai Mara National Reserve in Kenya. "For me, it is the Mecca of wildlife." I heard him say this at least a dozen times on the trip. And in Uganda, his favourite place for a wildlife safari is Murchison Falls. But that destination was not part of our itinerary. "But here in Uganda, we have the Big Five – Lions, Elephants, Rhinos, Hippos and Buffaloes – as well as the primates," Rishabh had a point that Jayesh also agreed with. Chimpanzee tracking was the highlight of our FAM trip but Rishabh was more interested in experiencing Mountain Gorillas at Bwindi. "I would miss the Gorillas," Rishabh said. "Don't worry, we are anyway doing Chimps tracking," I said. "Chimps are great but we can do it in some other places also. Mountain Gorillas are best experienced in Uganda," he said.
Suddenly, the jeep stopped as Kule said, "African Bush Elephants." On our right side, we saw a few elephants feeding on bushes amidst the Euphorbia trees, a cactus-like tree, native to arid areas of southern Africa. They were just a few metres away from us, about to cross a track. As I shot them using the smartphone, more and more elephants came out of the thick vegetation. I was awestruck. It was a large herd with baby elephants as well.
For many of us, it was a pleasant surprise; so many wild elephants hardly a few metres away. I never thought about it in the wildest of my dreams. I don't think I would ever see such a sight of elephants in my life again. Even Jayesh got excited. "Kule, you have just saved QENP from being dropped from my Ugandan itinerary for India. This is awesome," he said as he stood up and rushed towards the front row seat to enjoy a better view.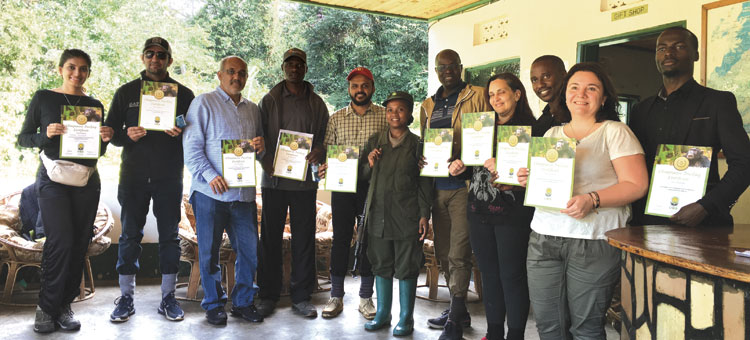 For a moment, I, too, was overwhelmed by the sight of the large herd of elephants and kept clicking videos and pictures. A few minutes later, one of the bigger elephants began to amble towards us literally suggesting to clear the passage for the herd. The vehicle went back a few metres. One by one, others crossed the track still feeding on the bushes, paying scant regard to us, behind the large male, which stood watching every movement of ours. "Hey, it's a baby," Nancy couldn't hide her joy. There were many elephant calves but this one was really young. "I think it's a newborn," Jayesh explained. We waited for some minutes for all the elephants to cross the track. As the herd passed by, an excited Jayesh broke into a lecture on safari: "That was an amazing show of elephants. Friends, wildlife safaris are not just about sighting animals. It is about enjoying the wilderness by closely observing the flora and fauna, listening to the sound, understanding the behaviour of the animals and the like."
Certainly, the sighting of elephants was quite exciting. However, we were still far from satisfied. "Let's go to the Janet track. I want to see lions," Kamaya had a piece of advice for Kule. As we moved ahead, hippos appeared before our eyes. A lot of them stood almost immersed in a lake, keeping only their faces aloft, drawing our attention towards their big eyes that often remained shut.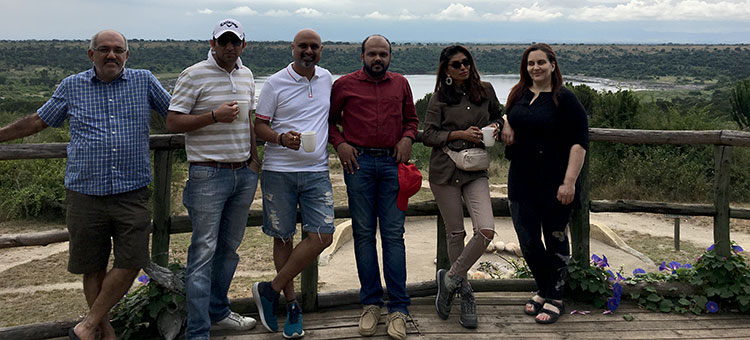 One thing I found interesting was that these sightings were so spontaneous that even our guides as well as drivers couldn't even guess where these beasts would show up on any particular day. The standard refrain before every safari is: "These are wild animals but there is no guarantee of sighting them." However, they made it a point to check with other team guides who we met during the safari. That conversation usually happens in Swahili language and we would anxiously wait for Kule or Rogers to translate them for us. After some time, out of sheer curiosity, we also started asking members of other safari groups about the possibility of seeing lions.
After one such interaction, Rogers suddenly took a u-turn. "There are lions on that side," he said and we were all excited. After a few hundred metres, we took a right turn and it was Janet track. "Kule, we should have come straight to Janet track," Kabir couldn't hide his excitement. From a distance, we could see half a dozen safari vehicles parked with tourists in them watching something with binoculars. As we reached near that spot, on the right side of the track we saw a group having breakfast on the ground. Usually, tourists are not allowed to get out of the vehicles.
"That's the safari breakfast, part of an experience package," Kule explained.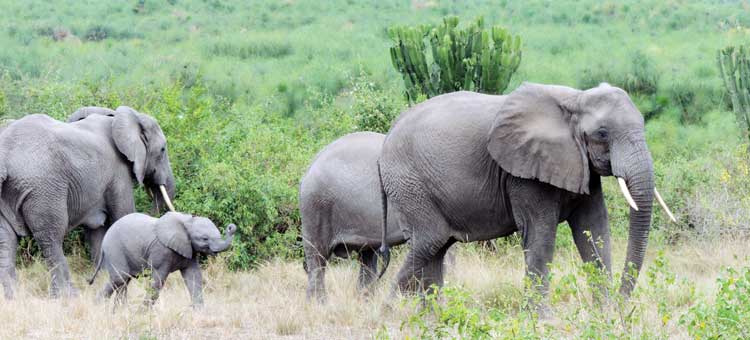 Finally, we saw a pride of lions, five of them lying lazily on a rock. And, in the backdrop was a herd of Ugandan Kobs. However, it was so far that mobile phone cameras are ineffective. Using my camera, Rishabh and Kamaya had a good view of the lions. Meanwhile, Jayesh was asking Kule to drive towards the lions. But Kule sat as if he didn't hear it. "Maybe it's not allowed," Kabir intervened. "Yes, usually it's not allowed. But in Maasai Mara, we are allowed to drive close to the wild animals whenever they are spotted," Jayesh was still trying to bait him. "But our style is different. We don't chase animals here," Kule was blunt in his reply.
"Do you know the specialty of these lions at QENP?" Kule continued. "These are tree-climbing lions. Though we have lions at other national parks in Uganda, tree-climbing lions can be spotted only in QENP. So when in QENP, climbing a tree to escape from lions would prove futile," Kule burst into laughter, playfully taunting all of us. "The lions usually climb trees to escape from some insects on the ground during rainy season, to avoid the heat on the ground or sometimes to get a better view of their prey," Kule explained, this time with the composure of a seasoned guide. Usually, they climb the sycamore-fig trees and acacia, the most common type of trees found in QENP savannah besides Euphorbia.
I got some astonishing frames, like the pride of lions against the backdrop of Ugandan Kobs but highly pixelated as I had to use the maximum zoom possible. Then I remembered Jayesh's words with a tinge of compliment the other day, "Man, you are a good photographer with a piece of bad equipment." That's a lesson for all of us. If you need good pictures, carry an excellent DSLR with a quality lens. If you just need to observe them, get a good binoculars and enjoy.
After a sumptuous lunch, we went for a boat ride on the 32-km-long Kazinga Channel that links Lake Edward and Lake George, and a highlight of QENP. For me, it was a day of contentment. Once we returned to the hotel, we planned a small get-together by the swimming pool at night. The next day, we had an early check out to proceed to Kibale National Park to track the Chimps. During dinner, Rishabh said, "Bro, see you in Kampala now." "But why?'' I was wondering. "I am joining the other group to experience Mountain Gorillas," he was ecstatic.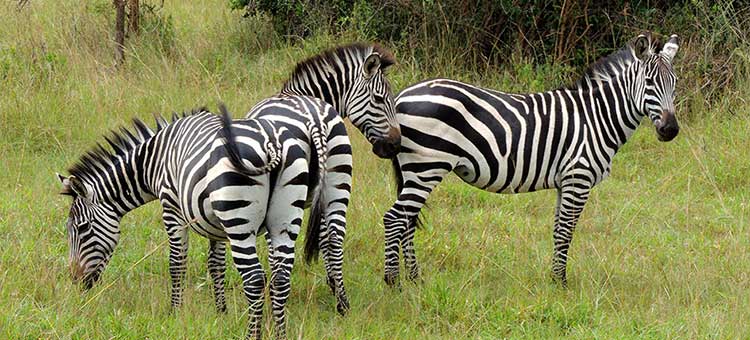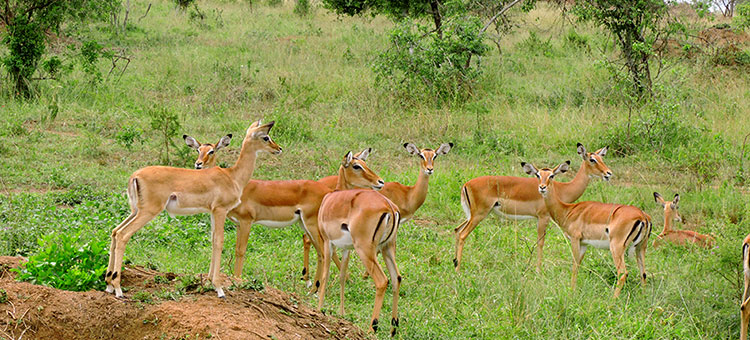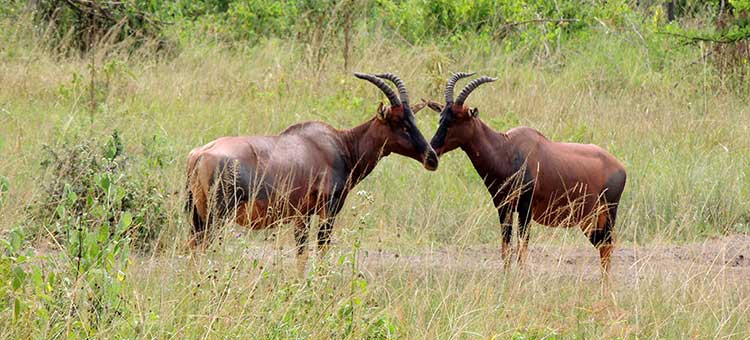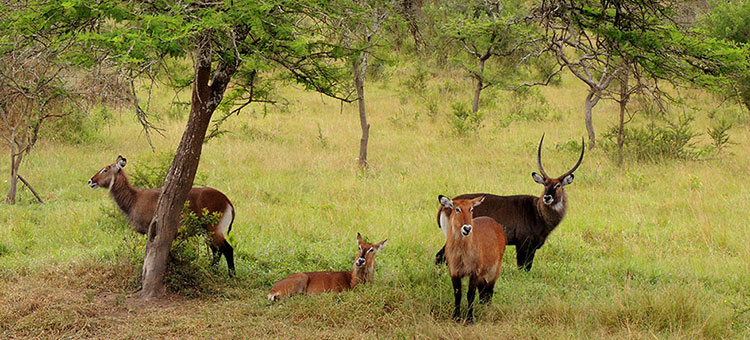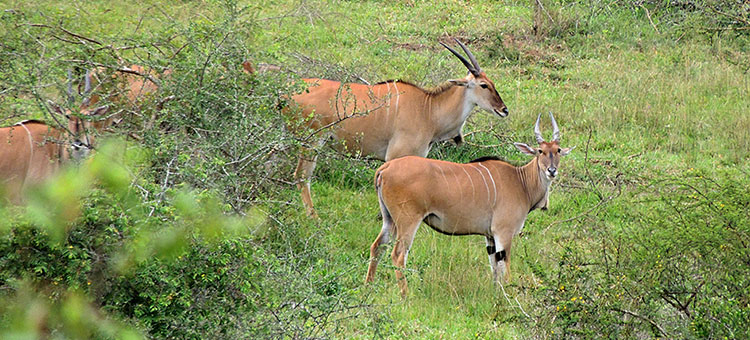 Truly, the Pearl of Africa
Uganda is so full of surprises that I cannot compile every detail in a single feature. The majority of travel agents, who attended POATE 2020, were quite impressed by what we had seen on the ground during the FAM trips. Many of them were visiting Uganda for the first time and were not selling tourism products in Uganda even as many East African nations were part of the itineraries they offered to various clients across the globe.
"Compared to our neighbours, Uganda is only 25 per cent of Tanzania's land area; 2.4 times smaller than Kenya, and 9.7 times smaller than DRC, but we possess 39 per cent of Africa's Mammal Richness (7 per cent of the Global Mammal Diversity) and this includes: 19 species of primates – one is the Mountain Gorillas of which 53.9 per cent of the world's remaining population lives in Uganda," said Tom Butime, Minister for Tourism, Wildlife and Antiquities, Uganda.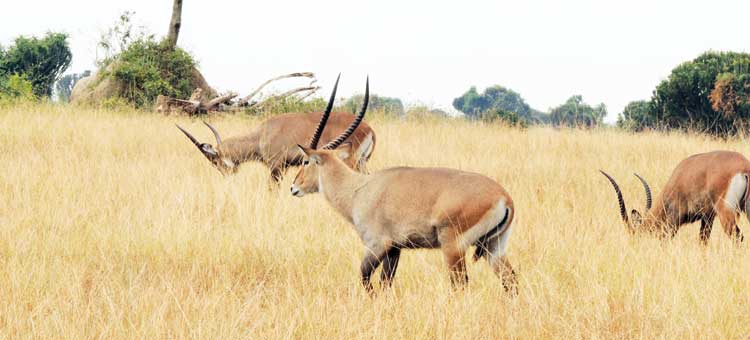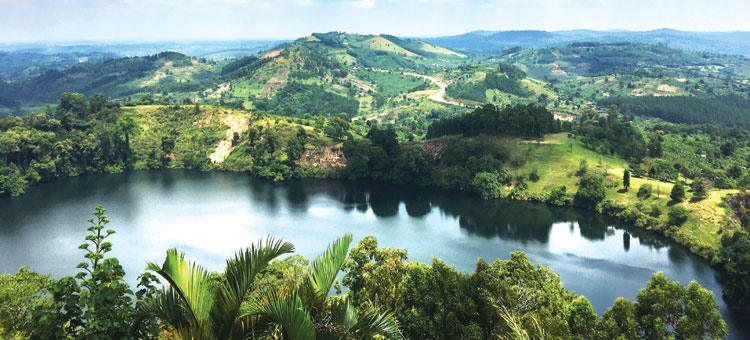 He continued, "11 per cent of the world's recorded species of birds or half of Africa's bird species, 19 per cent of Africa's amphibian species, 14 per cent of Africa's reptile species and 40 recorded species of butterflies are all residents in Uganda. We are also home to the source of River Nile. Rwenzori Mountains National Park is a UNESCO® World Heritage Site."
According to official statistics, forex earnings from the tourism sector have grown by 22 per cent over the last five years from $1.31 billion to $1.6 billion, an average growth of 4 per cent per year. In 2018, the sector contributed UGX8.3 trillion – the equivalent of 7.7 per cent of Uganda's GDP. The sector created 6,70,000 jobs in 2018 (6.7 per cent of total employment). 90 percent of these jobs are in the hospitality sector which employs 58 per cent females and 77 per cent youths (18-30 years). The 2019 World Economic Forum, Travel & Tourism Competitiveness Index ranked Uganda as the No. 1 most price competitive destination in the East African region and the 39th out of 140 countries in the world.
UTB calculates tourism figures from July to June. As per the latest statistics – July 2017 to June 2018, Uganda recorded 7.4 per cent growth in FTAs. "Around 15,06,669 international tourists visited Uganda in 2017-2018 while the figure stood at 14,02,409 during the 2016-17 period. Over the last few years, our average growth rate has been 7 per cent. Kenya is the biggest source market followed by South Africa. Of the total international figures, 70 per cent is from Africa alone. Tourists from the UK, Germany and North America dominate the remaining 30 per cent. Right now, the majority of those visits are for business. Those who come for leisure mainly prefer wildlife safaris," said Lilly Ajarova, CEO, UTB.
In the last two decades, Uganda has seen considerable investments in the hospitality sector with domestic, regional and international hospitality chains setting up shops in the country. Over 95 per cent of the hotels are owned by the private sector. Of this, 75 per cent are owned by domestic private players while 13 per cent by investors from other African countries. Only around 7 per cent is owned by international players.
Uganda's national parks have potential for a 100 per cent growth in terms of number of visitors every year. According to Stephen Sanyi Masaba, Director, Tourism and Business Services, Uganda Wildlife Authority (UWA), Murchison Falls attracts the most number of visitors now, with the figures just touching 1,00,000 a year. However, it can accommodate 2,50,000 visitors without adversely impacting the flaura and fauna. Similarly, QENP can take 2,00,000 visitors from the current figure of 85,000. Lake Mburo receives only 35,000 visitors in a year while it can have more than 50,000. Kibale also has the potential to take 50,000 visitors annually. Now, close to 20,000 tourists visit the place. Kidepo can take 30,000 visitors, almost thrice the existing figure. However, the increase in intake will depend on the availability of adequate number of lodges as well as infrastructure facilities," he said.
---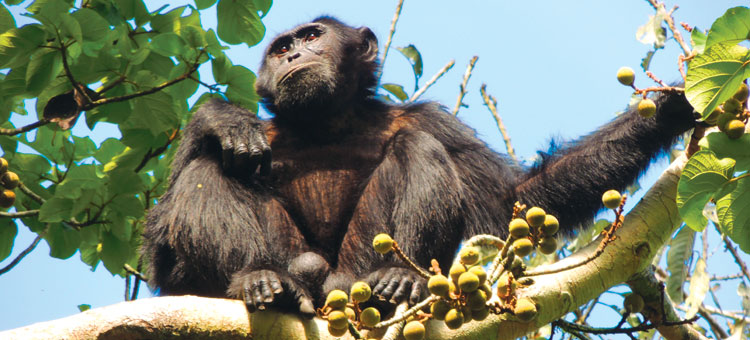 Chimpanzee tracking is one of the most exciting tourism activities in Uganda, Watching them in the wild is once-in-a-lifetime experience. Kibale National Park is the perfect place to experience the closest living relatives of humans while the activity can be done at QENP, Semliki National Park and Ngamba Island Chimpanzee Sanctuary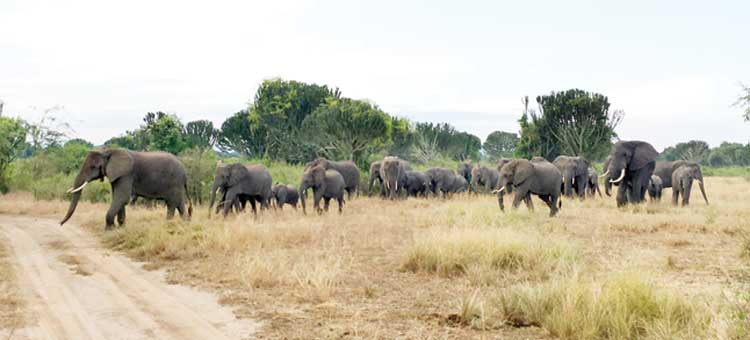 Spread over 37 sq. km., Lake Mburo National Park is home to 350 bird species as well as Zebra, Impala, Eland, Buffalo, Oribi, Defassa Waterbuck, Bushbuck, Topi, Reedbuck and Warthogs. Leopards and Hyenas are also present
• Spread over 1978 sq. km., QENP is home to over 95 mammal species and more than 600 bird species
• Activities include game drives, birding, boat cruise, Chimpanzee tracking etc.
• Uganda's most popular tourism destination at the momenta
---
Get your Visa
Uganda offers Visa on Arrival and the fee is $50. Only cash is accepted and there will be long queues. The Directorate of Citizenship and Immigration encourages all visitors to take e-visa prior to the arrival. It is not a visa but there are separate immigration counters for those with e-visa documents and the formalities are easier. For details, visit: www.visas.immigration.go.ug/
Vaccination
Yellow Fever vaccination certificate is a must to enter Uganda. Upon arrival at Entebbe airport, you will have to produce the certificate. Visitors can take the YF shot at the clinic at the airport for $40 and secure the certificate. Or else, before boarding the flight take the injection from any of the Government of India Authorized Yellow Fever Vaccination Centers In India. (www.ihrpoe.co.in/yf-vacc-centres.php)
Uganda is one of the most tourist-friendly destinations in Africa now. However, when travelling alone, it is better not to venture out after sunset.. Be extra careful with your personal belongings while you are out there on the streets every time. Chances are high that your mobile phone may get robbed (this happened to one of the travel agents from India during POATE 2020)
The currency is Ugandan Shilling ($1 is around 3700 UGX). Better to exchange to UGX from the airport for local spending. In some places, Dollars, Euros and Pounds in cash are accepted. Cards can be used as PoS terminals are widely installed in Kampala. Even though swiping machines are available in rural regions, wifi/mobile network could be faulty and not dependable
Ugandans like getting tipped for their services. Make sure you give them cash in UGX as it would be difficult for them to exchange smaller denominations of Dollars or Pounds
Uganda has a tropical climate with rainy seasons extending from Mar-May and Sep-Nov. Dry spells are during Dec-Feb and Jun-Aug. However, this year, it was raining heavily during January and February
Connectivity
Airtel and MTN offer excellent connectity in urban areas. We found Airtel better in rural areas. Better to choose one based on your travel plan. Many stalls are available at the airport. Wifi in hotels, especially at the National Parks is weak. Also, don't expect wifi in the room. Some lodges don't offer charging points inside the room. Visitors have to use the common facility at the lobby/reception area. Keep Type G Square-pin plugs. Many lodges run only on solar power and this is one reason why they limit the use of electricity
---
Bigodi Wetland Sanctuary, near Fort Portal and bordering Kibale National Park is home to several primate species including the rare ones like the Red Colobus monkey, black & white Colobus monkey, Grey-cheeked Mangabey, Red-tailed monkey and the L'Hoest monkey. With around 138 species of birds, the place is a bird watcher's paradise too. Great Blue Turaco is one among them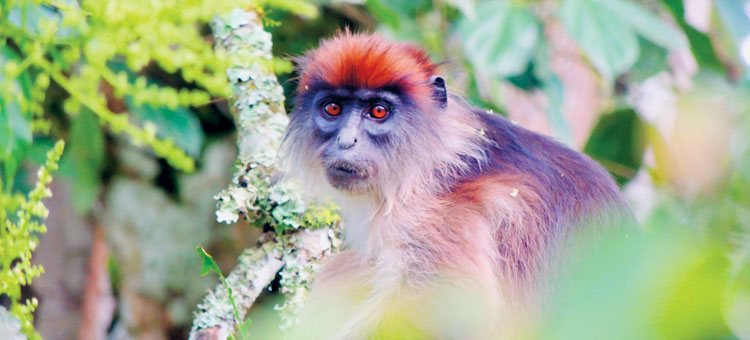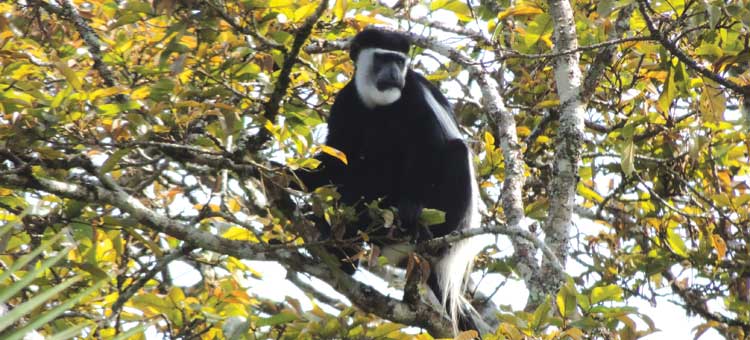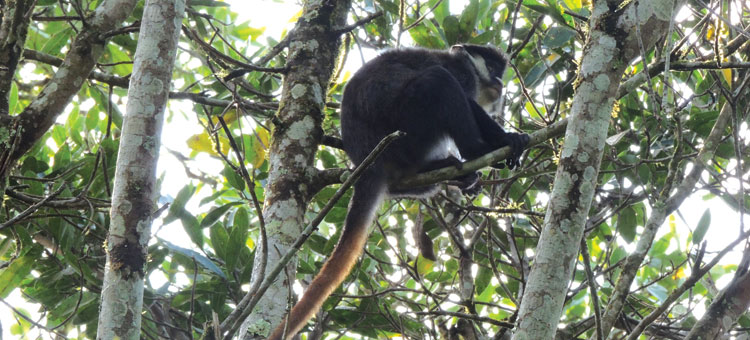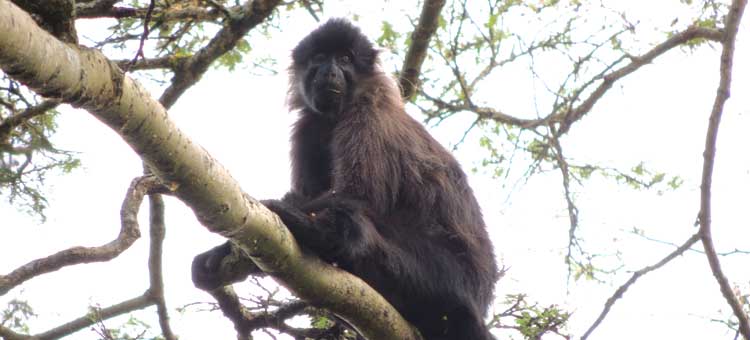 ---
'Go Bananas' in Uganda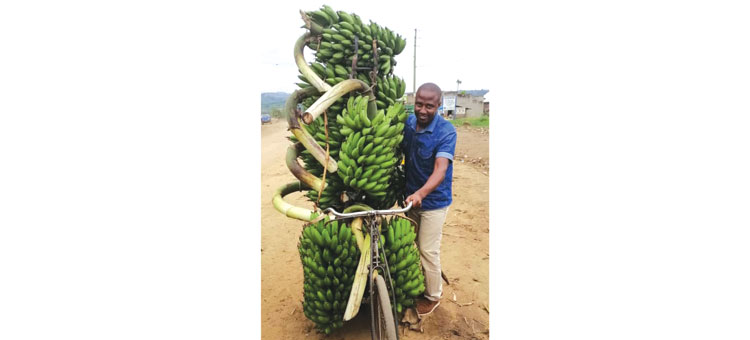 East African Highland bananas (EAHB), locally known as Matoke will keep you going all day long in Uganda. The local staple is Matooke – steamed and mashed EAHBs – wrapped in a plantain leaf. It is best served with meat dishes with spicy gravy or a distinctive pink groundnut sauce. Gonja banana – grilled or roasted EAHBs – is a popular snack. Katogo, another dish with EAHBs, is a traditional breakfast dish in Uganda and is often served along with beef, beans, cassavas topped up with sauces. Bogoya (cavendish bananas) are often served as dessert. Pisang Awak, a variety of banana locally know as Kayinja, is fermented and distilled to produce waragi (banana beer), the national spirit. Tilapia fish delicacies are also popular in Uganda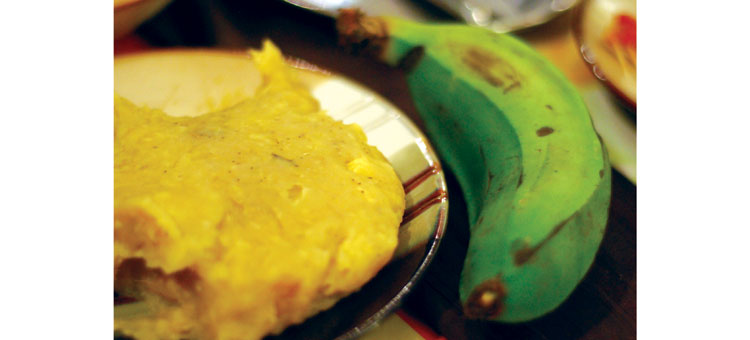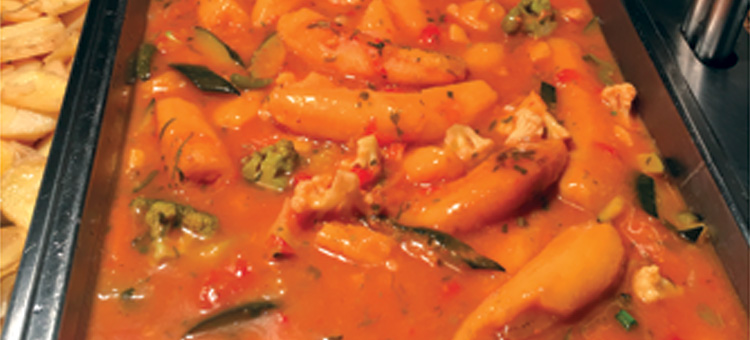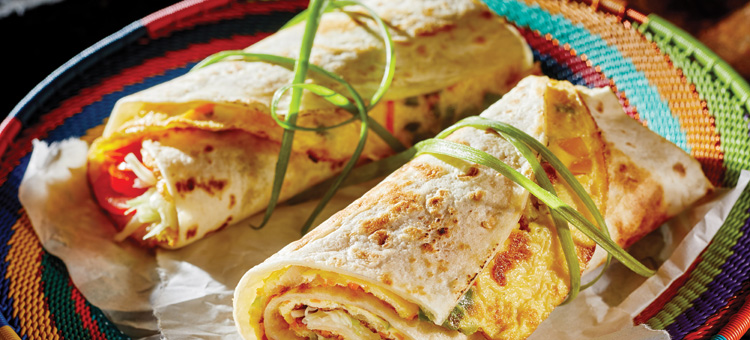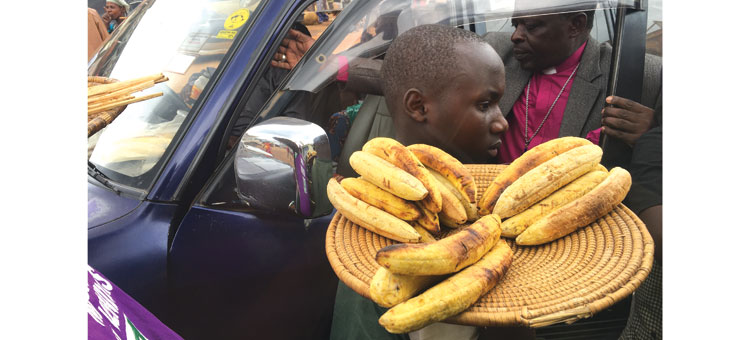 Rolex: The most popular street food snack is Rolex – a mix of eggs, onions and cabbage rolled up in a chappathi. There is annual Rolex festival in which Kampala's top chefs compete for the title of Rolex King.
Located around 35 km away from Kampala, Entebbe International Airport on the shores of Lake Victoria is the gateway to Uganda
---
Essentials for your Uganda trip
Apart from fundamental documents, visitors should carry:
Malaria pills/anti-diarrhea medicine/motion sickness tablets, hand sanitizer, sunglasses, sunscreen lotion, insect repellent/cream, toothbrush/toothpaste/mouth wash (absent in many safari lodges), binoculars, travel water bottle, safari shirt/pants/boots, rain jackets and preferably, green or khaki outfits
---
Let's go Uganda
Jayesh Ashar | MD, Pearl Tourism & Leisure Group, Pune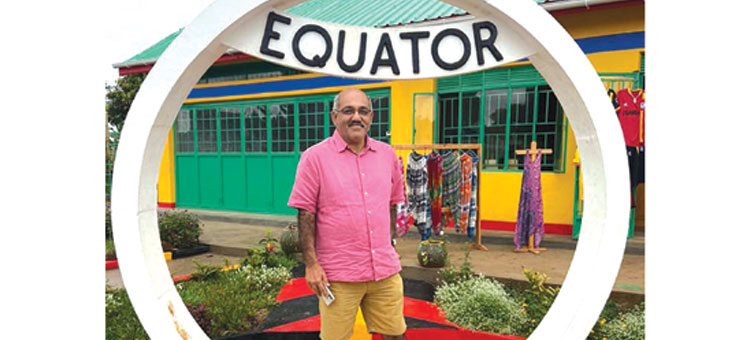 Uganda is hugely different from Kenya and Tanzania though a part of the East Africa circuit. The terrain is different which results in a varied wildlife population. The main national parks of Uganda – QENP, Murchison and Bwindi offer a new experience at each location. Post this trip, we have decided to reshape our existing itinerary to include one extra night at each of these destinations. This will allow the traveller to get a better and varied experience of Uganda. However, we feel that Bwindi should remain an optional add on as gorilla tracking is not every one's cup of tea!
For The India market
Uganda Tourism Board should start looking East, especially India for multiple growth in their inbound numbers
My favourites from POATE 2020 FAM
There was a marked difference in the management of the tours in comparison to previous years. It ran very smoothly. I loved the lake cruise in Queen Elizabeth National Park and the stay at Fort Portal (Crater Safari Lodge) and Kampala (Speke Resort) the most
Food
Ugandan cuisine is similar to other East African cuisines. However, it is not suitable to the Indian tastes/eating habits. One can give it a try for sake of variety. The fruits and fresh salads are the best in the world
In Uganda, I love
Fruits, people, water-based wildlife experience, nightlife in Kampala and gorillas/chimpanzees
---
Rishabh Shah | Director, Touristers Tour Designers, Mumbai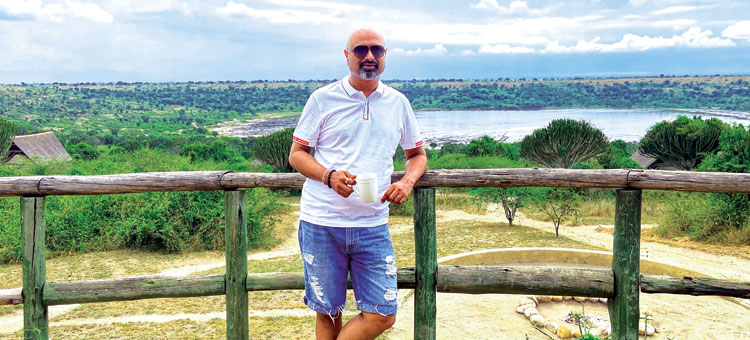 I have never sold Uganda before. Post POATE 2020, I will strongly recommend our clients to visit Uganda as I was surprised by its beauty. I suggest the below itinerary:
• Two nights in Jinja for soft adventure
• Two/three nights at Murchison Falls National Park
• Two nights at Bwindi for Gorilla tracking
Post that if the client wants to rest then he/she can spend a night at Fort Portal or head back straight to Kampala to take the flight to India. For those clients who are doing Kenya, we can add three nights in Uganda just for Gorilla tracking
For The India market
Safari lodges must upgrade to more vegetarian options for sure. I loved the rustic beauty of the place, nothing more to change
My favourites from POATE 2020 FAM
Mountain gorilla tracking at Bwindi was an amazing experience. In general, the accommodation during the FAM trip was decent. But, Uganda Tourism Board could have also included luxury lodges as it would have helped us market the destination better
Food
I found Ugandan cuisine for vegetarians was limited and can be managed for maximum of two days. Dishes were bland for my palate. To tap the India market, better to have more options
In Uganda, I love
The raw unspoilt nature, wildlife, experience of Gorilla tracking, safari lodges and of course, the people
---
Kamaya Sangodkar | Founder, The Pravasi, Mumbai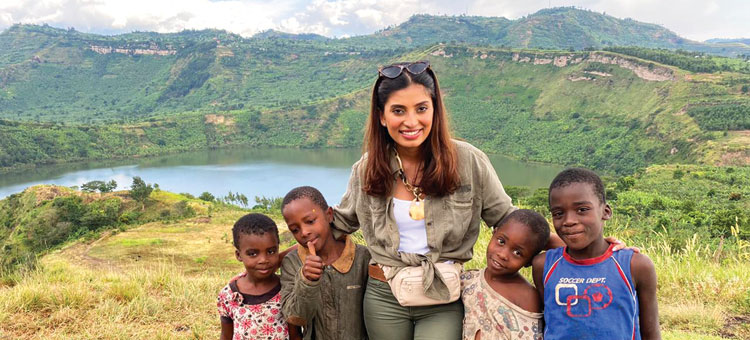 Unfortunately, Uganda was never part of my tour packages since I was not aware of the destination. Soon after POATE 2020, I have created itineraries for Uganda.
Classic Uganda
• Observe the antics of wild chimpanzees in Kibale National Park
• Boat cruise in the Kazinga Channel
• Spot tree-climbing lions in Ishasha
• Gorilla tracking at Bwindi
• Enjoy unbelievable birdwatching opportunities
Uganda Primate Safari
• Kibale National Park
• See a huge diversity of primates including the rare L'Hoest's monkey
• Hike around stunning volcanic crater lakes
• Experience two family gorilla groups in Bwindi
• Bigodi Wetland Sanctuary
In Uganda, I love
People, Matoke & Binyebwa (groundnut sauce), Coffee, Gorillas, Ugandan dance/culture and scenic Crater Lakes.
For The India market
Uganda needs to up its game on the F&B front to cater specifically to Indian tastes if they need to increase the number of travellers from India. We noticed that lodges outside of Kampala do not have an extensive menu for vegetarians. Pricing points need to be worked out for budget travellers too. Uganda, I feel, is an expensive destination at the moment. Therefore we see no possibility for a budget traveller
My favourites from POATE 2020 FAM
Destination: Fort Portal (FP) – for its scenic beauty and 30-35 crater lakes in the same location. Lots of lake activities and moments to unwind amidst nature. Chimpanzee tracking is a highlight in Kibale which is just 30 mins drive from FP
Food: Matoke and Binyebwa – boiled & mashed plantain with some groundnut sauce – was my favourite. Totally epic
Stay: Ndali Lodge in Fort Portal, one of the best locations. Perched on a hill with fabulous crater lake views. One of the highlights is Sadhguru Jaggi Vasudev has stayed here and the owner's wife has opened up a Sadhguru School too. Beautiful luxury lodge with eight rooms surrounded by absolute serenity
---
Pravin Shah | Partner, Sree Harshil Tours & Travels, Mumbai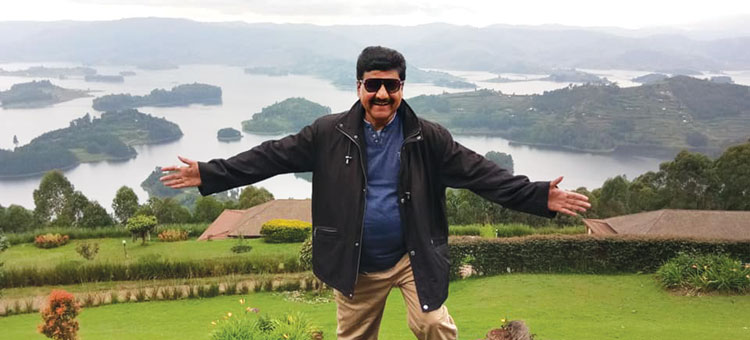 Having been in the business for decades, I have visited close to 100 countries across the globe. Quite interestingly, I have never been to Uganda nor sold the destination among my clientele until POATE 2020. Now, I will definitely offer exclusive Uganda packages to my clients. I also feel that Ugandan lodges and restaurants should have a decent spread of vegetarian dishes for breakfast, lunch and dinner customised for Indian visitors
In Uganda, I love
Gorilla tracking, Chimpanzee tracking, Rwenzori Mountains, Queen Elizabeth National Park, amazing greenery – it's like a mini Switzerland and, of course, the helping nature of local people
---
Lilly Ajarova | CEO, UTB on a sundowner cruise on Lake Victoria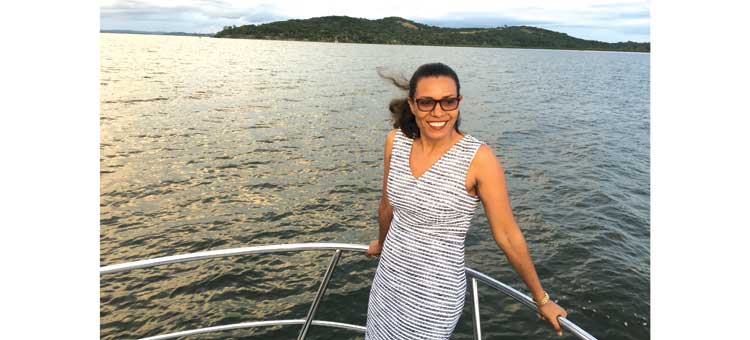 In 2020, our biggest focus will be to promote adventure tourism. For us, tourism is not just wildlife safaris. We have a plethora of destinations that offer unique adventure tourism experiences. Jinja in South Eastern Uganda, famous across the globe as the source of River Nile, is the adrenaline capital of Uganda. On the River Nile, we have white water rafting, kayaking, jet boating and boat cruises. On the shore, thrill-seekers can enjoy quad biking, horse riding, mountain biking, forest walks, bungee jumping and zip line ride. Like that, the Rwenzori Mountains – with snow-capped peaks, hot springs and blue cirques – is fast emerging as a hot destination for adventure activities like trekking, peak climbing and hiking. From single-day soft trekking to 15-day-long adventure climbing activities are on offer. Meanwhile, Mountain Gorilla tracking is Uganda's foremost tourism experience. Visiting the source of River Nile is another fascinating experience which no country in the world can offer. Tracking Chimpanzees, of course, is another major attraction. With 13 species of primates, Kibale is known as the primate capital of the world. In our main source markets like the UK, Germany, North America, China, UAE and Japan, we have representatives to promote the destination. India is one of the markets that we would really like to explore. In the next five years, we will conduct a series of campaigns in India. This will be finalised in June. The promotion of film tourism is also a priority now. UTB will participate in major travel and tourism expos around the globe, including the upcoming ITB Berlin, WTM Africa, ATM Dubai and WTM London. We also plan to strengthen our digital marketing campaigns in a big way.